Integration report
Each channel has a different way of communicating errors on products you try to sell on their platform. Sometimes even in their own language.
Knowing this, Lengow has created a new functionality to harmonize all errors received into a unique and universal integration report.
This integration report lists all errors and explanations sent by the channels.
How does it work?
Each report groups together similar errors in packages to provide a simpler reading and allow you to easily correct your products.
The errors are grouped by major themes (Product, Category, Other errors, etc.).
This integration report is fed from the latest reports sent by the channel and retrieved by Lengow concerning product data, offers and product statuses (the latter is not always communicated).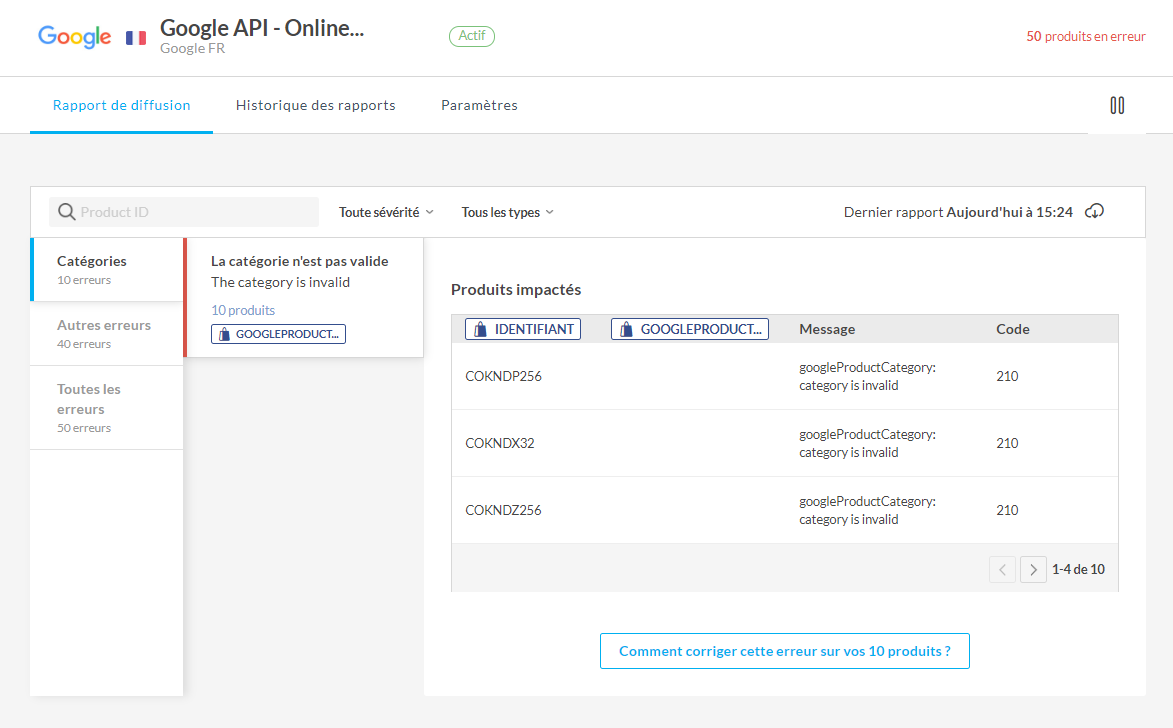 Exemple : Dans l'image ci-dessus, le diffuseur indique que la catégorie qu'il a reçu n'est pas valide, et que cette erreur concerne 10 produits.
Ce rapport de diffusion est alimenté à partir des derniers rapports envoyés par le diffuseur et récupérés par Lengow concernant les données produit, offres et les statuts des produits (ce dernier n'est pas toujours communiqué).
Correct Categorization errors
You can directly
correct the Categorization errors
from the Integration Report page!
Information displayed
Errors are displayed according to the number of products impacted, in descending order.
Also find on the Integration report page:
the date and time of the last report sent by the channel with the possibility of downloading it directly in csv format.

the number of products in the optimized feed received by the channel and the number of products accepted.

a search field to narrow down products : You can perform several searches together. Enter the first value, press the "Enter" key on your keyboard, then enter another value, press the "Enter" key on your keyboard, etc...

possibility to filter by "error" or "warning". (the warnings do not prevent the publication of the products at first, however it is strongly recommended to correct them)

possibility to filter by type of report (products / offers)
Les thématiques affichées pour regrouper les erreurs sont les suivantes :
| | |
| --- | --- |
| Price | le prix |
| Stocks & Delivery | la quantité et le/les informations liées à la livraison |
| Product description | la description du produit |
| Product identification | l'identifiant du produit |
| Categories | la catégorie |
| Feed format | le format du catalogue optimisé |
| Technical errors | les erreurs techniques |
| Other errors | les autres erreurs |
What if ...
I need more information on how to correct these errors
Refer to the "Integration Report" section in the relevant channel's guide. We have identified explanations for the most common errors.
I don't understand an error
Contact Lengow Support or your channel's account manager.
I cannot find integration report on a specific channel
Contact Lengow Support or your channel's account manager.