Contact Privalia to know if you are eligible to sell your products on their website.
To distribute your products on Privalia, check that your products catalogue contains the
data usually required
.
Note: you don't have these values in your products catalogue? Contact the Lengow Support Team to find an alternative.
EAN Matching
Privalia ES is a "Brandplace", which means that you will be the sole seller of your products.
This also means that
EAN Matching is NOT possible
on this marketplace, since you'll have to create all the product pages you display there.  
Add a channel catalogue
Add a Privalia New ES channel catalogue in your Lengow account.
Match Categories
Match your categories with Privalia's through "Categories Matching".
Complete Attributes Matching 
Match your products catalogue fields with the fields requested by the channel, based on field definition. If necessary, enter hard values, use functions and/or adapt the values by creating rules. For fields with valid values, select the suggested values or match with your products catalogue values.
If a value is missing in the drop-down menu, please contact your Privalia account manager and ask for the creation of the concerned value.
Some fields are mandatory and must be completed for your products to be created or updated. Other fields are optional but the channel recommends you fill them in to improve your products visibility.
Get compliant with anti-waste law (AGEC)
Privalia ES provides the necessary attributes to make you compliant with the Agec law.

The Attributes are assigned to the product categories in a targeted way. Fill in the IDUs of the channels for which your products are concerned:
| Title Key WEEE | deee_unique_identifier_idu |
| --- | --- |
| Furniture (WEEE) | dea_unique_identifier_idu |
| Batteries & Accumulators (PA) | pa_unique_identifier_idu |
| Gas cartridges | gas_unique_identifier_idu |
| Chemicals (DDS) | dds_unique_identifier_idu |
| Lamps | bulbs_unique_identifier_idu |
| Textiles & footwear (TLC) | tlc_unique_identifier_idu |
| Sport & Leisure (ASL) | asl_unique_identifier_idu |
| DIY & Garden (ABJ) | abj_unique_identifier_idu |
| DIY & Garden thermal (ABJ TH) | abjth_unique_identifier_idu |
| Games & Toys (JJ) | jj_unique_identifier_idu |
| Packaging (EMB) | emb_unique_identifier_idu |
Terms and conditions for the return of used products according to the 1 for 1 principle: cond_takeback_1for1
You must transmit the terms and conditions of return of used products so that they are made known to Privalia ES members before the sale, and this for all the products in your catalog that fall under the principle of Extended Producer Responsibility.


The amount of eco-participation WEEE and WEEE : eco_part_WEEE and eco_part_WEEE
Note: The amount of eco-tax must include the amount of VAT so that it is displayed below the price on the product sheet. The existing attribute "eco_part" must not be used anymore.
1. Set up your special offers/sales
To set up special offers/sales, fill in the following fields:
manufacturer_recommended_price: strikethrough price of your product (original price).

 

You shouldn't modify it even during promotions or sales.
retail_price_justification:

 

Statement justifying the origin of the strikethrough price displayed (free text)
price: discounted price of your product.

 

If your product is not discounted, the "price" must be equal to the "manufacturer_recommended_price".
In addition, for the sales only, fill in this field:
sales_justification: free text, indicates that the product is on sales (on both child and parent products), its start date and the period of availability. This field must be filled in only during the legal period of sales.
For example: "Soldes à partir du xx/xx/2023 8h, jusqu'au xx/xx/2023".
The "price" attribute is used for sales AND promotions. When setting the sale price in Lengow, remember to use an activation date to avoid overwriting the standard price of your product.
2. Delivery method and costs
The configuration of delivery methods and costs must be set on your Privalia back office.
3. Variation values
Privalia accepts size and/or colour, for product variations.
To manage your variations, fill in the following fields for child lines:
modelo:

 

parent identifier (a common identifier for all the variations of a product). This field must remain empty if your product has no variations.
variation_type: Indicate here the type of variation. You can set variations on two attributes maximum. Use the "comma" as separator.

 

Here are the possible values if a product is

 

varied on

 

only one attribute: "color", "size".
is_variation: Informs of the presence of variations or not. Set "true" for child products and "false" for parents and simple products.
Parent products must be excluded from the feed sent to Privalia, if your products catalogue contains any.
A distinctive page is automatically created per color. It is then recommended to use only the Size variation.
4. VAT legislation - Get compliant!
To get compliant with European VAT legislation, fill in these three attributes in the Attributes Matching step:
shipped_from_country
shipped_from_region
shipped_from_eu_vat_zone


5. Other specificities
Images : May contain multiple images. Each image must be separated by a comma.
Please note that the images cannot be sent empty or in 404 error. Remember to set up several Conditions in Lengow for this attribute if you intend to send several images.
Example on your left is a rule for products that have three images and another rule for products that have no image 3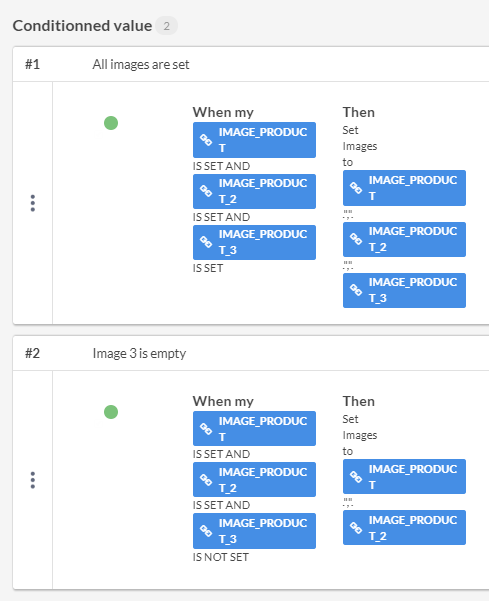 Manage your Exclusions
Follow the usual instructions for exclusions for this channel:
Are there product variations in your catalogue? Check whether the parent products should be excluded or not in the step dedicated to variations.
Preview your data
Check the data you are about to send to the channel at the "Preview" step.
Configure your Options
Configure options before sending your products catalogue to Privalia.
Regarding the identifiers you have to fill in:
PinkConnect Token:
Enter your Privalia API Key here. To collect it, go to your Privalia sales area
Here is an example of an API key: bla_bla490:60d040b6f5b7c6a4eb3e9b2083195d745aef706a
Pink Connect
Privalia uses the Pink Connect technology, and so does VeePee. 
If you are publishing on Privalia ES and on other marketplaces using Pink Connect (Privalia IT, VeePee) in a single backoffice, you must use the same token in Lengow to connect all these channels. 
If you have a different Pink Connect backoffice for each channel, then different tokens will be needed.
Launch the channel catalogue
Then your feed is automatically sent to Privalia by API.
The sent stream contains your :
Product datas (twice a day) :

 

enable the integration and creation of products.
Offer datas (every hours) :

 

enable the update of prices, stock, etc.


Read Integration Reports
Read product and offer diffusion reports to check that your products are properly configured, either at product creation level (product feed) or updates (offer feed). These reports list only items which were rejected by Privalia. 
For each product in error, Privalia specifies the reason for the rejection.
Product and offer integration reports are available and downloadable from Lengow: "Channel" tab > select "Privalia" > click on "Activity"
Edit a product file
Data is automatically updated as soon as the offer feed is sent out.
Unpublish/Delete an offer
Case of products in error that you cannot correct

Privalia doesn't allow to unpublish products if an attribute is missing.
If an attribute is missing for an already published product, you have to make an exclusion. Lengow will send the last known correct values for this product to Privalia. This action will enable the channel to unpublish the product.
Manage your Privalia orders
You can manage your orders in the Lengow platform.
1. Order retrieval
Lengow retrieves orders placed on Privalia website every 15 minutes.
2. Order statuses
Orders go through various statuses in Lengow while being processed:
Here is the list of Lengow statuses corresponding to the marketplace orders statuses:  
"waiting_acceptance": [ "WAITING_ACCEPTANCE" ]
"waiting_shipment": [ "PENDING", "PROCESSING" ]
"shipped": [ "SHIPPED", "RETURNED" ]
"canceled": [ "CANCELLED" ]
"refunded": [ "REFUNDED" ]

Possible actions:
accept (order must be at waiting_acceptance status) 
ship (order must be at waiting_shipment status)  
Ship action requires "tracking_number" and "carrier" to be specified. For the "carrier", enter either its code or its name (example: "5" or "Fedex").
cancel (order can be waiting_acceptance, waiting_shipment status)  
refund (order can be at shipped status)  
Refund action requires "refund_price" and "refund_shipping_price" to be specified.
Note: if the refund is done in Privalia's back-office directly, the status won't be updated in Lengow's API.

Make sure to set partially cancelled order to be refunded status to "Shipped" within 3 weeks. Otherwise order will be automatically cancelled and the customer will be refunded.
Contact 
To register as a new merchant on Privalia ES, please contact

 

Ricardo Brescia, Business Developer Marketplace Spain

 

ricardo.brescia@veepee.com
Channel's news
Find here the latest changes/communications from the channel and what you have to do in Lengow:  
CSS styles added to HTML tags to format product descriptions, offers and variants are no longer accepted from 23 February 2022. Only simple HTML formatting tags will be accepted.

What you have to do in Lengow
Make sure CSS styles are no longer used within your Privalia feed. 
If the CSS styles are from your product catalogue, use the Optimisation feature at the catalogue level.
If you added the CSS styles for this channel only, update your settings in the Attributes Matching and/or Rules.
[...]
Until now, you could format your product descriptions, offers, and variants using CSS styles added in HTML <style> tags.
Yet recent security audits have indicated that these tags can be used as a loophole for an attack.
So, as a result of new security rules, these tags will no longer be usable as of February 23.
Example :
BEFORE:
<div style="color:red; »>
<p>A description</p>
</div>
AFTER:
<div>
<p>ADescription</p>
</div>
CSS Tag deleted
In other words, the following previously supported tags will no longer work:
color
opacity
overflow-wrap
text-align
text-indent
font-family
font
font-size
font-weight
font-style
width
height
HTML tag accepted
After shutdown, only simple HTML formatting tags will be accepted.
All CSS <style> tags will be removed before the product is displayed.
[...]