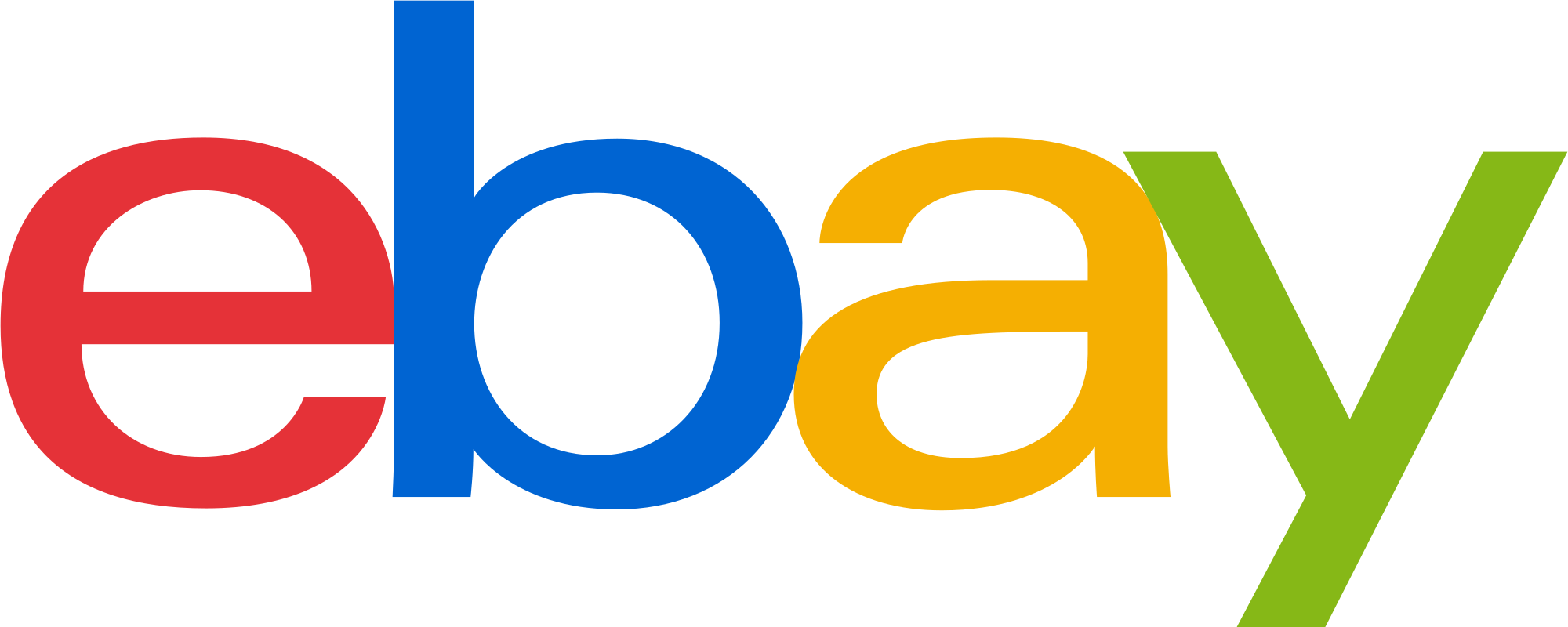 Contact the marketplace to know if you are eligible to sell your products on their website.
To display your products on eBay, check that your products catalogue contains the data normally required.
Note: you don't have these values in your products catalogue? Contact the Lengow Support Team to find an alternative.
We recommend to regularly read the following eBay documentation:
Add an eBay channel catalogue
Add an eBay channel catalogue in your Lengow account.
Note: if you wish to sell your products in a country which is not available in Lengow, please contact our Support Team.
Connect your Lengow account to your eBay Pro Store
You must authorize Lengow to connect to your eBay Pro Store account before starting setup.
Click on the "Connect to" button - you will be redirected to eBay. Log in to your seller account and click on "I accept" to connect Lengow to eBay.
Once the authentication process is confirmed, you can start setting up eBay.
Keep your Ebay history
Lengow recommends to keep selling history on products when updated.
Keeping your selling history intact is very important. This history will give your listing priority when buyers are searching through eBay.
Activate the option "Out Of Stock" from your eBay Account > site preferences

Lengow uses the InventoryTrackingMethod, so existing products must have been created using the same method to be updated by Lengow - you can confirm this by contacting eBay.
In concrete terms, when a product has 0 stock in Lengow :
> If the option is activated, then Lengow will keep the stock information at 0 and send this information to eBay. The product will then remain available in your eBay back office. *
> If the option is deactivated, as soon as the stock is set to 0 on your feed in Lengow, Lengow will start deleting the product on eBay.


Please note that Lengow cannot guarantee that selling history will be preserved if your products have been created on eBay "MIP" (Merchant Integration Platform).
Note: An active listing created with the new Inventory model (using the Inventory API or Merchant Integration Platform) cannot be revised using the "ReviseFixedPriceItem", "ReviseItem", or "ReviseInventoryStatus" calls. Instead, you can use the Inventory API or MIP.
Parts compatibility Listings
Parts compatibility is a way for sellers to list parts that fit a variety of vehicles. It's also a way for buyers to find parts that fit their vehicles.
When you activate this service in Lengow > eBay feed > Settings, the "kTypes" attribute is made available in the structure and must be completed with compatible vehicle code.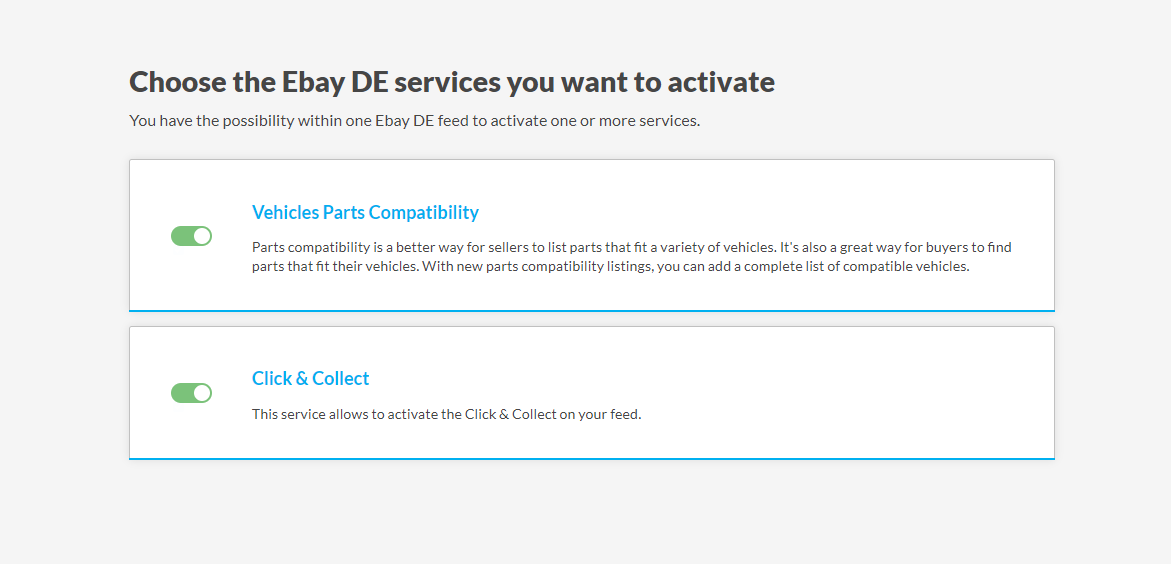 EAN Matching
eBay doesn't allow EAN Matching.
It mean that you cannot link and update through Lengow your products with existing eBay ads via their EAN code.
You must complete all attributes requested in Lengow to create new ads on eBay.
Then, updates will automatically be sent for your products ads.
Match Categories
Match your categories with eBay's using "Categories Matching".
There are two Categories Matchings for eBay:
Thesaurus 1 (mandatory): to match your categories with eBay's and classify your products.
Thesaurus 2 (optional): to match your catalogue categories with categories you created in your eBay seller store.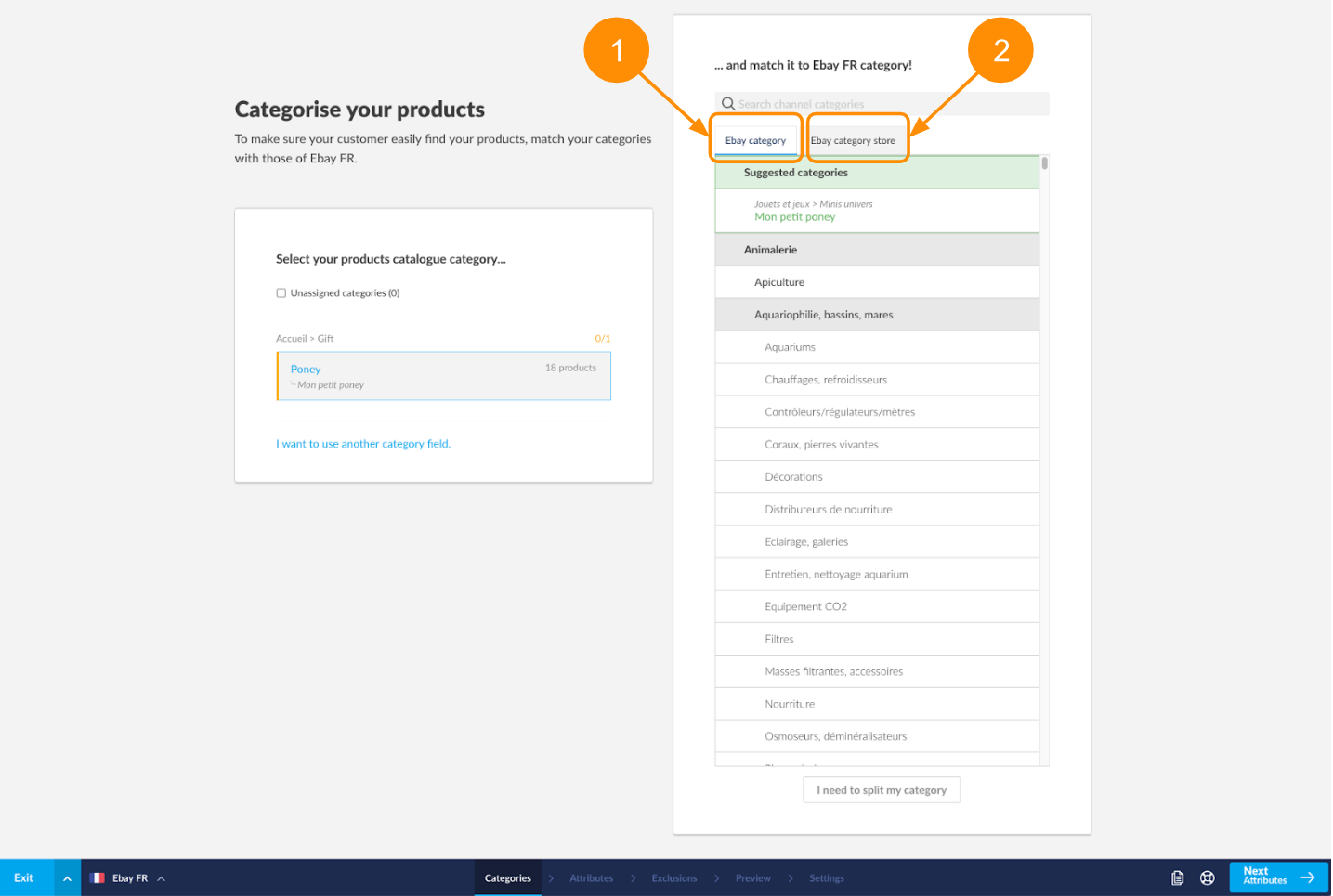 Complete Attributes Matching
Match your products catalogue fields with the fields requested by the channel, based on fields definitions. If necessary, enter hard values, use functions and/or adapt the values by creating rules.
For fields with valid values, select the suggested value or match with your products catalogue values.
Some fields, such as the brand, are mandatory and must be completed for your products to be created or updated. Other fields are optional but the channel highly recommends you fill them in to improve your products visibility.
The fields SKU and product_ID must be matched with the same product identifier in Lengow to avoid issues with order retrieval. Once set, the SKU cannot be changed.
Maximize your visibility
To improve the visibility of your products in the search results on eBay, it is essential to create detailed product sheets by completing the "Item Specifics". When filling in products attributes in Lengow, make sure to avoid as much as possible values such as "N/A" or similar terms.
According to eBay, this can impact your visibility, since buyers use aspects to search and filter their search results, making it easier for them to find exactly what they're looking for. Items will only appear in those filtered search results if the matching aspects information has been added to listings.
Complete and accurate aspects can increase the visibility of listings in search results and help buyers find exactly what they are looking for. Providing "N/A" as an aspect in a listing results in reduced buyer visibility.
Please refer to the values listed in attributes fields when available.
For additional information, please check the eBay Seller Centre page.
1. Set up your special offers/sales
If you manage your promotions through the eBay "Promotion Manager" tool, complete the attribute below in Lengow:
"isonpromotion": accepted value TRUE or FALSE.
If only some products are on sale, consider setting a condition on the attribute to not impact the other products with the value TRUE.
Lengow will not overwrite the prices of products that have the mention "TRUE" on the attribute "isonpromotion".
2. Shipping and payment settings
2.1 Setting your business policies in eBay (recommended)
Using eBay's business policies, you may create your own shipping, return and payment policies directly in eBay's backoffice.
To apply these policies to your products in Lengow, enter the corresponding policy IDs in the following attributes in Lengow:
fulfillment_policy (for shipping settings)
return_policy
payment_policy
Where to find your policy ID?
The policy ID is visible in the policy page's URL in your eBay backoffice (see screenshot: the ID is the number in the red box).

The policy IDs can also be retrieved through an API call, as detailed in these eBay documentations:
2.2 or: Using the shipping fields in Lengow (not recommended)
The below shipping attributes will be discontinued by eBay in the future, as the use of business policies is recommended.
You may fill in up to 9 delivery methods for eBay in Lengow:
4 domestic delivery methods
5 international delivery methods
To set up domestic shipping, please fill in the following fields:
You can offer free shipping for the first delivery cost only ("ShippingServiceCost1" attribute). Your product will be refused if you offer a second free shipping.
To set up international shipping, fill in the following fields:
DispatchTimeMax
InternationalShipToLocation
InternationalShippingService (refer to eBay's list of Shipping Service Codes)
InternationalShippingServiceCost
InternationalShippingServiceAdditionalCost
Need to exclude a region or country from the location you selected in Lengow? You can do so in your eBay backoffice.
2.3 PaymentMethod field (not recommended)
As described in paragraph 2.1, the use of eBay's business policies is recommended to manage your payment methods directly in eBay's backoffice.
However, if you don't manage your payment method in your eBay backoffice, filling in the "PaymentMethod" attribute is mandatory.
Please note that if the payment method is set in your eBay backoffice and if you've also completed the "PaymentMethod" field in Lengow, eBay won't take the value sent through Lengow into account.
Online Click & Collect service (eBay DE and eBay UK only)
First make sure you have "created" your store in your eBay back-office, as the marketplace needs to know the geolocation, its opening hours, etc.
The creation and management of this store can be done via a dedicated Lengow App. This App will let you complete all the store information requested by eBay.
Then follow these steps:
Add the "Click & Collect" online service from your eBay feed into Lengow and complete with:

Location feed ID : it's the ID generated by the Lengow APP. If you don't use our APP, leave the field empty.

This service, once activated, will unlock attributes dedicated to the Click & Collect option which will be entered from the Matching Attributes.
Complete the attributes visible on the block dedicated to the Click & Collect service. Make sure that the stocks filled and the store ID are those of your stores registered on the marketplace.
Lengow tip: Add a condition on your attributes if the service does not concern the whole catalog.


Further information:
Store stocks are sent to the marketplace every hour, along with data from the Offers feed.
Orders placed with the online click & collect service are only available via the Lengow API, they cannot be imported through our plugin.
Indeed these orders have statuses and actions dedicated to click & collect which make them incompatible with our plugin at the moment. As the statuses of these orders are particular we advise you to consult our API documentation on this subject.
3. Variation values
eBay accepts variation settings in several categories.
Set up example of a product variation (click to enlarge):
To manage your variations, fill in the following attributes:
parent_id:

parent identifier (a common identifier for all the variations of a product).

This field must be empty if your product does not have variations.
Declinaison_name and Declinaison_value:
Besides the "mandatory" attributes (Attr_XXX) located in your categories, use these attributes to send your

variations to eBay and create a drop-down menu

on the product listing:

Declinaison_name: Specify the name of the variation attribute that you want to create on eBay (example: "Dominant color").
Declinaison_value:

Fill in the declination value by matching a field of your source catalogue (example: $COLOR$) or add

a rule.
You can create
up to 5 custom variation attributes
by category.

Note / Variation titles
It is NOT recommended to send the same variation titles as the attributes already displayed in your eBay channel.
Example: If a size attribute (ATTR_size) already exists for the category, and you want to set a size variation on your product listing, name your variation "Sizes" or "Available sizes" - but NOT "size".
Note that the existing attributes (ATTR_) in categories are mainly used by eBay to create search filters (and thus to bring the buyer more easily on your product sheets)
Warning / Parent products
For parent products, make sure you do NOT leave these fields empty:
EAN: enter "does not apply" for eBay UK/US, or its equivalent depending on the language (FR: "non applicable" / ES: "no aplicable" / DE: "nicht zutreffend" - see the full list here).
Price: price of the item. For the parent products, it is recommended by eBay (but not mandatory) to send the lowest price among the variation.
Quantity: stock available. For the parent products, it is recommended by eBay (but not mandatory) to send the sum of quantities for the whole variation.
Note / Images and variations
E.g.: You are selling tee-shirts on eBay. These tee-shirts have colour and size variations.
Make sure that the variation type you fill in at first is the colour ("Declinaison_name_1" and all three associated fields).
If images from several variations are sent to eBay, only images from the first variation (values entered in "Declinaison_name") will be sent. Therefore other images won't be sent.
Regarding ads which include variations on eBay, it is impossible to change their duration, category, title or format if an item has already been sold.
In this case, send a "Delete" for the ad and publish it again, so that changes will be taken into account.
For more details read the eBay documentation.
4. Products identifiers
To display your products on the marketplace, eBay defined specific products types for which one the following identifiers is mandatory:
Brand and/or manufacturer number (MPN) may be mandatory, depending on product category. For more information, please read the dedicated eBay documentation.
MPN and Brand are mutually dependent, you cannot fill one without the other. If you don't have an MPN number for your product, you may enter "does not apply" (UK/US). If there's no brand, you may enter "Unbranded/Generic" (US/UK).

If you have some products which do not have a EAN/GTIN identifier, provide one of the following values in the "EAN" field, depending on country:
US: does not apply
Canada: does not apply
UK: does not apply
Germany: nicht zutreffend
Australia: does not apply
France: non applicable
eBayMotors: does not apply
Italy: non applicabile
Netherlands: niet van toepassing
Spain: no aplicable
India: does not apply
HongKong: 不适用
Singapore: does not apply
Malaysia: does not apply
Philippines: does not apply
CanadaFrench: non applicable
Poland: nie dotyczy
Belgium_Dutch: niet van toepassing
Belgium_French: non applicable
Austria: nicht zutreffend
Switzerland: nicht zutreffend
Ireland: does not apply
5. Image requirements
It is mandatory to send eBay at least one image per product to ensure its display.
Minimal size authorized is 500 pixels.
Minimal recommended size is 1600 pixels
Note: eBay recommends using Pixelz to make your images conform to marketplace standards (remove borders, text, and other artwork on your images).
A maximum of 12 images per product variation is allowed (minimum one image for the parent product).
Best practices for creating images
To create the most effective images, keep the following in mind:
Images should be taken against a solid background.
Images should have neutral backdrops to keep the focus on the item.
Images should be evenly lighted so the image shows as many details as possible.
Do not scale up image sizes and do not add thumbnails to your images because these practices can affect the clarity of your images when presented on eBay.
Images should not include additional styling besides what is needed to show the product itself. Don't add borders or frames to your images.
More info on eBay documentation.
6. eBay Template
The Lengow platform does not support the creation of eBay Template to customize the design of your product listings on the marketplace.
However you can integrate HTML code in eBay description attribute to generate a customization of this attribute.
By implementing the complete HTML code of your template (created via another interface) on the attribute "description".
Or you already have a field in your product catalogue that already contains this HTML code and you match this field with eBay's "description" attribute.
Note: When creating your Template (on another interface), if you integrate it in Lengow, know that you can dynamically call the fields of your source feed! Remember to use the $ symbol when creating your template. Thus, when integrated into eBay's description attribute, the values called by the $ symbol will automatically be reflected in the created template.
Read our dedicated guide on Attributes Matching!
Manage your Exclusions
Follow the usual instructions for exclusions.
Preview your data
Check the data you are about to send to the channel at the "Preview" step.
Configure your Options
Configure options before sending your products catalogue to eBay.
PayPal ID: provide your PayPal e-mail address. This data is mandatory.
Adapt you SKU for multi-country (optional): if you sell your products on different eBay countries, your products identifiers must be unique for each country. If you want to sell your products on different eBay websites and do not have product identifiers for each country, enable this feature to create unique ones for each country.
New eBay Authentication (mandatory since April 2022):

This setting allows you

to cancel your orders through Lengow. For eBay UK and DE, it also enables the

use of eBay's

Click & Collect feature (if you activated this service).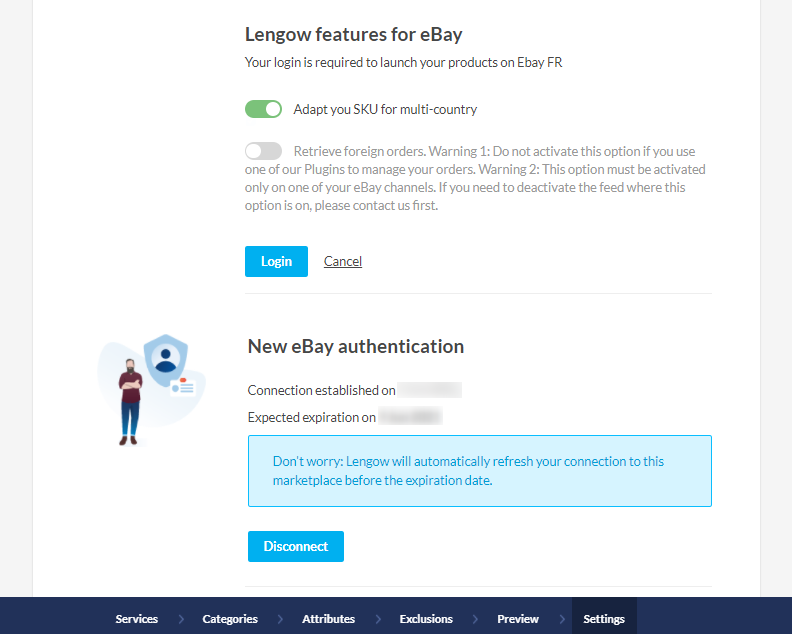 Launch the channel catalogue
Before sending your optimized catalogue to the channel:

Check that your channel online store has been created and opened.
Check that there are no rules created in your channel back office.
Note: contact your channel account manager if you have any question on this matter.
Two distinct feeds are sent to the channel through API:
Product Feed: enables the integration and creation of products. It is sent to the channel once a day.
Offer Feed: enables the update of prices, stock, etc. It is sent to the channel every 2 hours.
Read Integration Reports
Read product and offer Integration Reports to check that your products are properly configured, either at product creation level (product feed) or updates (offer feed).
These reports list only items which were rejected by eBay. For each product in error, eBay specifies the reason for the rejection.
Products and offers integration reports are available in your Lengow account:"Channels" tab > choose eBay > click on "Activity".
Main errors and their resolution
In each integration report available on Lengow, you will find:
the product id concerned
the error / alert message
the type (error or alert)
the time the report was received by Lengow in the interface.
The main errors and how to resolve them:
Brand not valid
Error Message
: code 21919303 - The characteristic of the object Brand is missing.
Solve and prevent the error 21919303:
Check that the Brand attribute is correctly populated in Lengow for the product in question.
Use Preview to easily view the filled / missing value.
Enter a valid value and resend the feed to eBay.
Make sure the brand is valid and does not match the product model (for example: Brand = Apple, Model = iPhone 5C)
If the object does not have a brand, use the expression "no brand"
MPN not valid
Error Message
:
Required item specific, MPN, is missing. Please add MPN and a corresponding value to the listing and retry the operation.
Solve and prevent the error:
Use only alphanumeric characters
Use the most accurate manufacturer references. For example, different colors of a product must be associated with different manufacturer references
The reference should not include the words "for", "compatible", "see description", etc.
Parent Product ignored
Error Message: Product XXXXX is a parent product associate with a categorie that doesn't handle variations, so it will be ignored.
This error means that the eBay category of the product concerned does not accept variations. eBay rejects the "parent" product sent.
Solve and prevent the error:
Check that the "parent" products are excluded from the feed sent to eBay for this category and resend the feed to eBay for correction.
Tip: Use this site to check with eBay's category code whether or not it accepts variations.
DispatchTimeMax value is not valid
Error Message:DispatchTimeMax value is not valid : 7
This error means that the value "7" of the DispatchTimeMax attribute (preparation time before sending the order in working days) is not accepted.
Only values: 0, 1, 2, 3, 4, 5, 10, 15, ou 20 are accepted by ebay.
Solve and prevent the error:
Check the value entered for the DispatchTimeMax attribute and correct. Resend the feed to eBay for the correction.
Category ID value is not valid
Error Message: CategoryID value is not valid : "XXXXX > XXXXX"
eBay rejects the received category value because it does not match a category code expected by the marketplace.
It seems the Matching Category has not been done in Lengow for this category because eBay is expecting a numeric code instead.
Solve and prevent the error:
Check the value entered for the product concerned via the Preview.
Perform category matching of the category concerned and resend the feed to eBay for correction
International Product Code is not valid
Warning Message: code 21919456 : For multi-version ads, the value of the international material code must be specified for each version.
The problem lies with the attribute "Product Code" (EAN, UPC, ISBN, MPN or Brand) which is not valid for the product sent.
A version for eBay is a variation, a "child" product.
This message is a Warning, which does not prevent the publication of the product.
However, it is usually accompanied by the error 21919301: The EAN field has not been filled.
Solve and prevent the error:
Check the entered value for the EAN, MPN, and Brand attributes
If these attributes are correctly filled in, it is possible that the product is still being integrated on the eBay side. Resend a feed to the marketplace and wait for the next report
Check the publication of your product on eBay
Token is not valid/has expired
Error message:Token is marked as "Expired"
The token used to link your ebay seller shop to Lengow has expired or is not valid.
Check in your seller shop the token and re-activate it.
Complete the API Options in your Lengow feed to re-link your ebay seller shop to Lengow.
"Refurbished by the brand" program
Error message: Le vendeur n'est pas éligible pour utiliser la condition GOOD_REFURBISHED ni pour ce site ni pour la catégorie
You are not enable for the program.
Make sure you subscribed to it
Make sure your settings in Attributes Matching are following eBay's expectation. More info here.
Edit a product file
Data is automatically updated as soon as the products feed is sent out.
Data is automatically updated as soon as the offer feed is sent out.
Unpublish/Delete an offer
To unpublish an offer on eBay, read our recommendations.
When you stop advertising a product on eBay, the offer is also deleted from your back office.
Special case
You want to unpublish a single product page which belongs to a set of products declined on two or more types of variation?
It is possible only if the whole set of products pages which includes this products has no error.
If one product variation has an error avoiding it to be displayed, unpublishing another product page from the set will be impossible.
Manage your eBay orders
You can manage your orders in the Lengow platform.
Note that eBay orders are imported by country. It means that you need to add an ebay feed per country in Lengow to get all the orders placed on the different eBay platforms on which you display your products.
1. Order retrieval
Lengow retrieves new or modified orders on the channel's website:
Every 15 minutes
Once a day, for new orders made or amended in the last 5 days
2. Order processing
Orders go through various statuses in Lengow while being processed.
3. Allow foreign orders
By default Lengow only imports orders related to the country of publication. For a "FR eBay" feed we therefore only include orders from your FR eBay store.
The "Allow foreign orders" option is a feature you can activate in Lengow that allows you to import all your eBay orders with only one eBay feed in Lengow.
Meaning that you can integrate international orders, those coming from your other eBay stores while having a single eBay feed in Lengow.
If you have multiple eBay feeds, each linked to a different seller store, you don't need to enable this option.
European VAT regulation
If eBay has to collect VAT, the marketplace will send to Lengow information related to VAT (if you are on an FR eBay feed, type will be IOSS or OSS for example).

This information will let you:
know whether you have to collect VAT or not for the order
retrieve eBay VAT information , if you need to make a declaration on those orders fo which you are collecting VAT
Information will be provided in Lengow (in orders export), t
hrough Lengow plugin as a JSON text field as well as via Lengow API.


About collecting VAT in Europe.
4. Statuses of eBay orders
Here is the list of eBay statuses corresponding to orders statuses in Lengow:
1. New order
"New": at this stage, order is awaiting payment confirmation by eBay.
Note: it is not possible to accept eBay orders. As soon as payment is confirmed by eBay, status automatically becomes "Waiting for shipment".
2. Waiting shipment
"ToShip": order is waiting for shipment.

During this status, you can

confirm the shipment

of the order and

enter the carrier

and the parcel tracking number/URL. You may even specify the product line.

During this status, you can also

cancel the order.

You have to

specify the reason.
3. Shipped
"Completed": "sent". Order has been sent and shipment is in progress.

During this status, you can cancel the order. You have to specify the reason.
4. Cancelled
"Cancelled": order cancelled by merchant or customer.
5. To_pickup
"ReadyToPickup": order is available to be picked up

During this status, you may

cancel the pick up. Specify a reason.
During this status, you may declare the pick up is

complete.
6. Pickup_canceled
Pick up has been canceled. The eBay status may specify the reason:
"PickupCancelled"
"PickupCancelledBuyerNoShow"
"PickupCancelledBuyerRejected"
"PickupCancelledOutOfStock"
7. Pickup_completed
"Pickedup": order has been picked up

During this status, you may

refund

the pick up order. Specify a comment, the refund id, the refund quantity, the refund mode.
8. Pickup_to_prepare
"PendingMerchantConfirmation": Order is not ready to be sent.

During this status, you have to confirm the pick up is ready. Specify a comment and the pick up id.

During this status, you may also

cancel the pick up.

Specify a reason.
For the client's phone number to be retrieved by Lengow, an option must be activated in eBay's back office.
It is possible to
cancel an eBay order from Lengow
. Go to the "settings" page of your eBay feeds and click on the "
New eBay authentication
" option to activate it.
Contact
Channel's news
Find here the latest changes/communications from the channel and what you have to do in Lengow: