How to access?
From tab "Catalogues" > "Add a new catalogue" > "Akeneo"
Or from the additional sources tab in one of your Lengow catalogues
What is it?
Akeneo is an open source product information management tool for BtoB and BtoC businesses.
Through Lengow, retrieve and import a maximum of products data from Akeneo to create a source in Lengow.

Check Akeneo PIM compatibility.
How does it work?
Follow these steps to add and setup your Akeneo App into Lengow:
From your Lengow account, add a new Akeneo PIM

catalogue.

Link your Akeneo account by completing the

authentication information

with your Akeneo credentials

(see image 1 and the below instructions).
Select the data structures you want to import

(see image 2):


Scope: Akeneo environment

(one per catalogue). All of the products in the scope will be imported.
Locales:

languages to import
Currencies: currencies to import

Then follow the usual catalogue first import workflow:
- Do the Lengow Matching

.

If you don't have a price field in Akeneo, match any other field at this step - but remember to change the matching once you import prices from another source.
- Check

Import report
In the "Catalogues" tab, you may go to the sub-tab "Settings", then "Update frequency & alerts", and set the alerts you need or define a custom update frequency.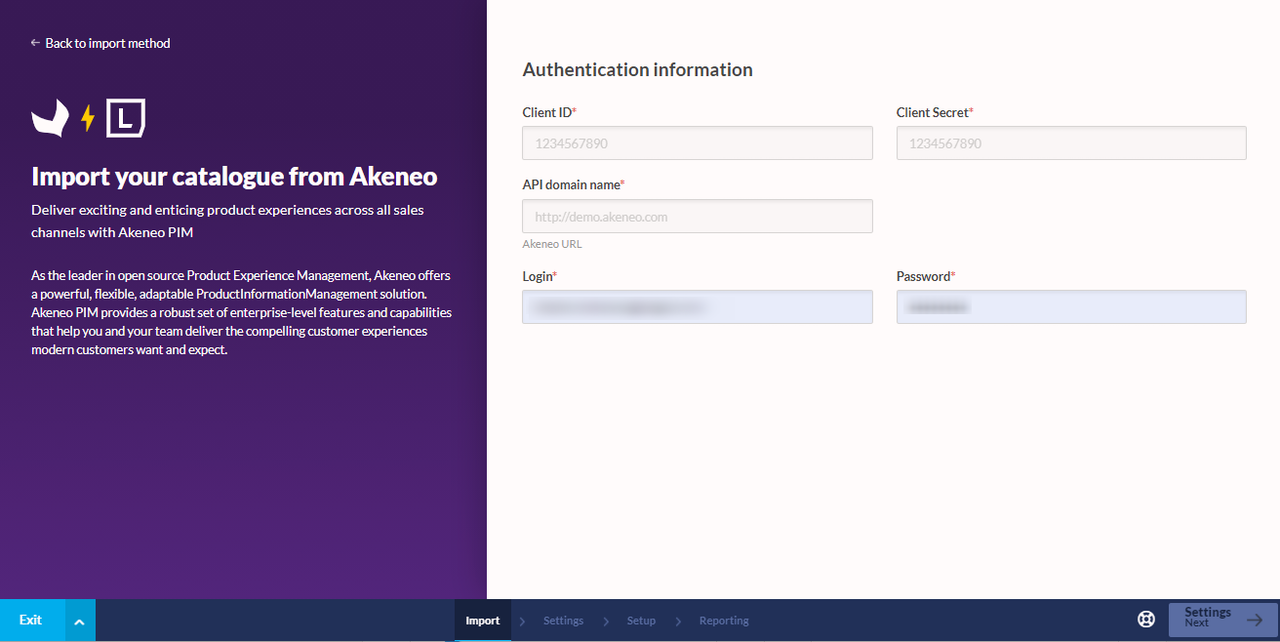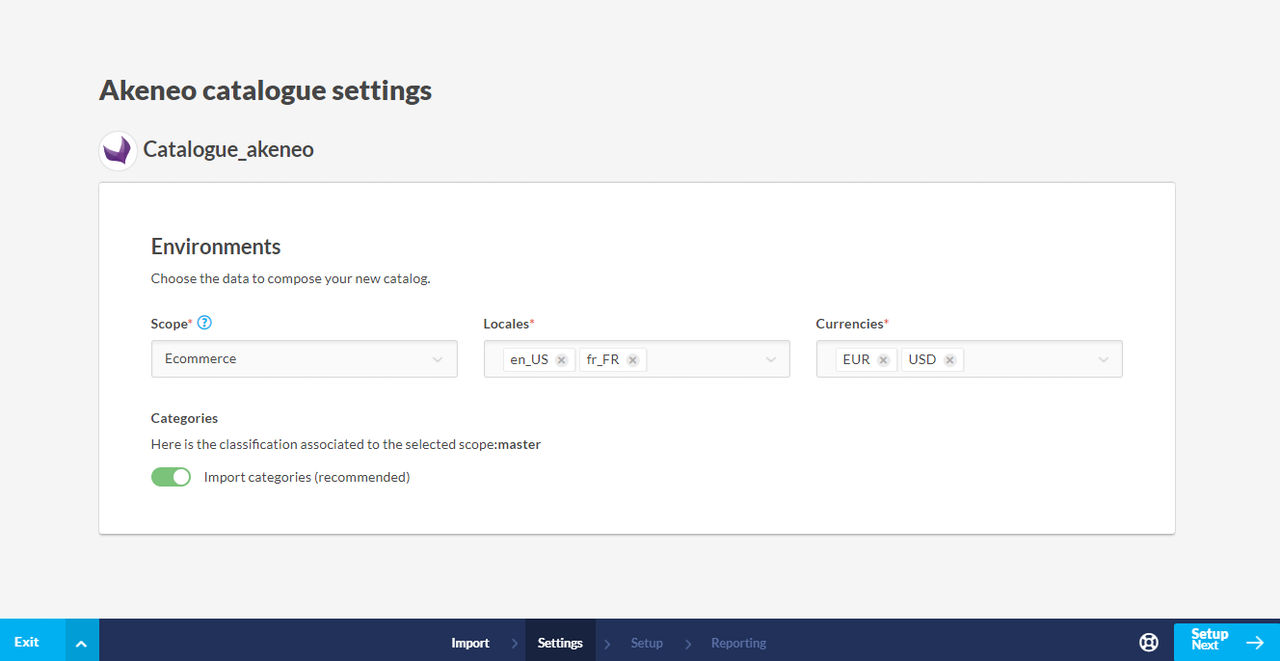 Well done!
You have just imported your Akeneo product data into your Lengow catalogue!
You must have an open Akeneo account
If some of your products are mapped to several categories

in Akeneo, this will create

several "Category" fields

in your Lengow catalogue.
The URLs of your products' images must be public. If the data retrieved via Akeneo are not usable, you can transform them by adding the TwicPics app to your Akeneo.
The retrieved dimensions are transformed into the SI (International System of Units) units of measurement. For example, millimeters are converted into meters in Lengow.
The management of declinations is not possible yet. Our teams are working on its development.
Where to find your Akeneo credentials?
In Akeneo, go to "System" > "Connections" and click on "Create".
Enter a "Label" and set the "Flow type" field to "Data destination".
Make a copy of the displayed credentials (immediately make the copy as they won't be shown again).
Set your permissions preferences (select "Administrator").
Akeneo Environment: The saved parameters (scope, locales, currencies) cannot be altered.

However, new locales and currencies can be added if available in your scope.
How to use it?
Once your Akeneo catalogue is imported, it can be used just like any other type of catalogue imported into Lengow.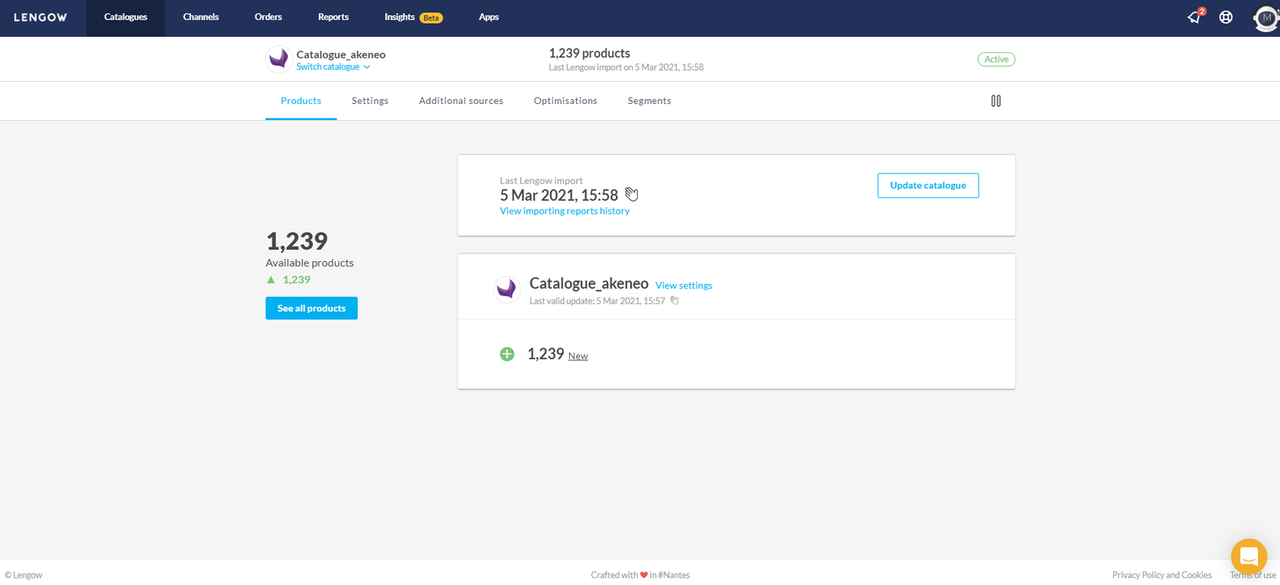 Need to use Akeneo as an additional source?
Akeneo can also be used as an
additional source
:
Select a catalogue and go to the "Additional Sources" tab.
Choose your product identifier.
Just like for the

catalogue version of Akeneo,

select your Scope, Locales and Currencies.
Select the fields to import

(see image): a maximum of 200 attributes

can be imported in the additional source.

If you have different languages, for example description FR and description EN, they will be counted as 2 attributes.
Set frequency to get the last attributes updates.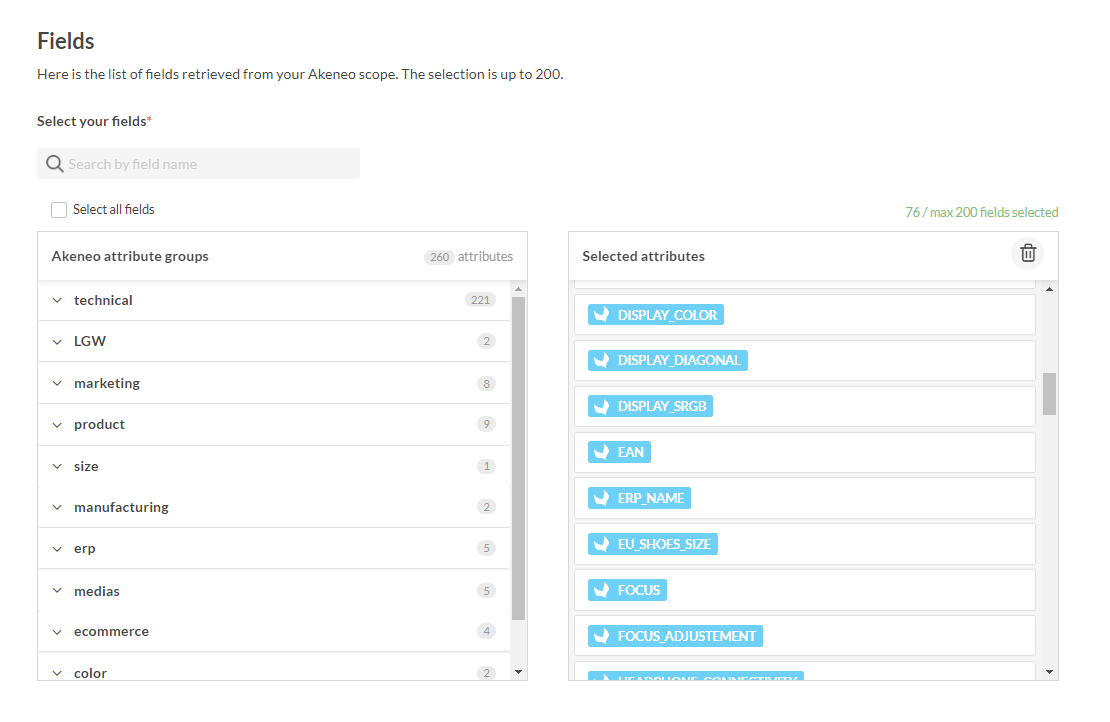 Revoke Akeneo Access
You can deactivate your Akeneo catalog at any time in the settings tab by clicking on the
"revoke access"
button.
A list of all sources created with Akeneo in Lengow will be displayed. By revoking Akeneo, all the sources created from this access will no longer be indexed.
Once Akeneo is deactivated, the "PIM authentication" block turns red and displays the status "disabled".
If you reconnect to Akeneo via one of its sources, the indexing will not automatically restart for all other sources.
When reconnecting, the sources have to wait for their next in
dexing to retrieve the product data again (it is still possible to force an index if needed)