What's the use?
Google Adwords allows you to display text ads related to your site and/or products in response to queries made on Google's search engine.
Google Adwords campaigns are powerful. They also require advertisers daily attention. For e-merchants, these campaigns management can quickly become tedious.
In addition, Google has developed for e-merchants Dynamic Search Ads (DSA). Two systems coexist:
The classic DSA.This system uses the content of the e-commerce site to dynamically trigger ads based on requests from users.
The DSA with targeting based on data feed which is recorded and regularly updated in Google.
The latter is preferred, because it makes available to Google updated data and thus avoids problems of stock and traffic for unavailable products. It also helps to better control the data in ads.
This present article will focus on the DSA with targeting based on data feed.
How to display my products with Google Dynamic Search Ads?
To display your products into search results via Dynamic Search Ads, one source is required in Lengow:
The Google Dynamic Ads catalogue (it contains only 2 fields: "PageURL" and "Custom label").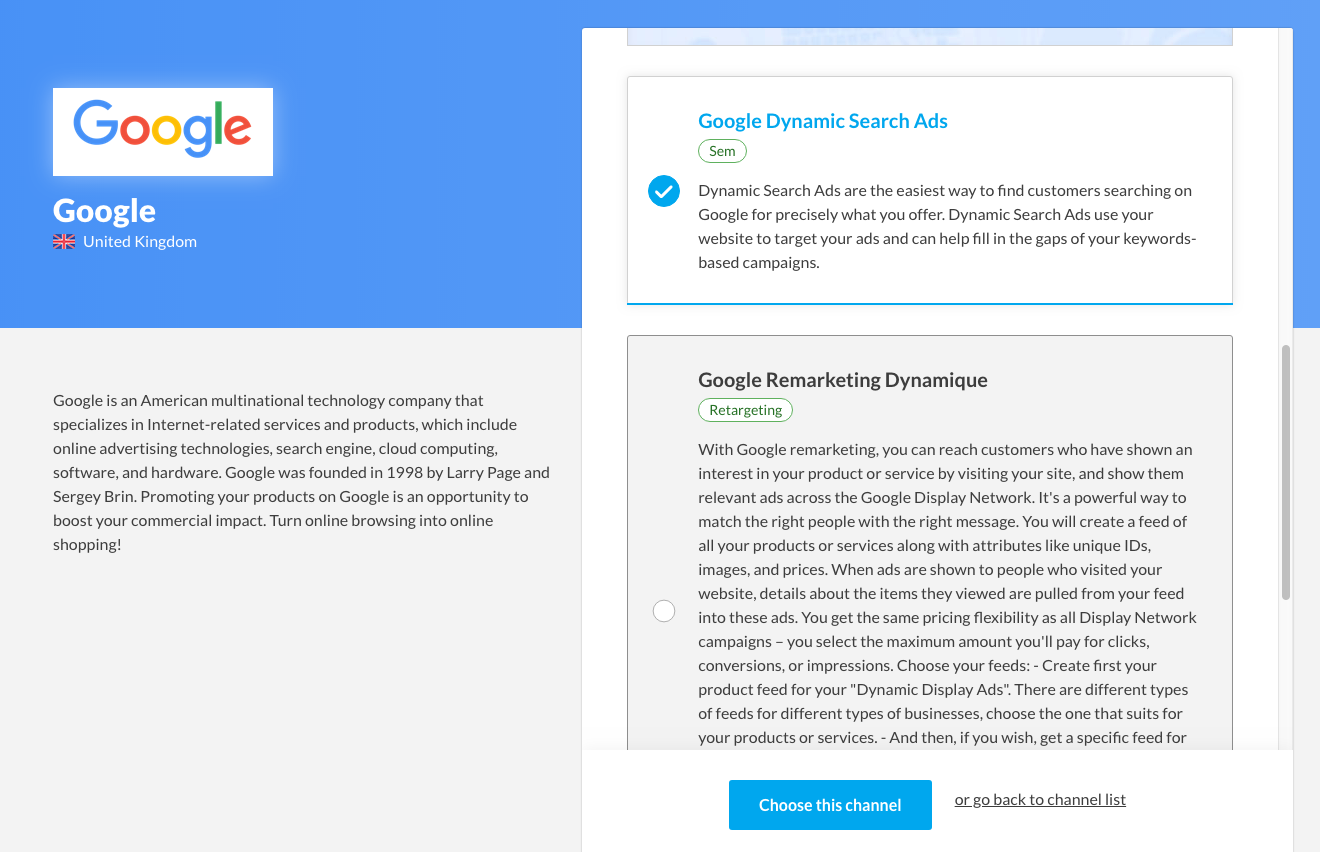 Set up the Google Dynamic Ads catalogue
With the Google Dynamic Ads catalogue, you'll indicate precisely URLs that have to be used in dynamic ads on Google Search Network, thanks to labels associated to these urls.
By doing so, you help Google to choose when to display your ads, and where to lead users on your website.
These URLs can be set up from Lengow.
We advise you to add custom labels to URL with this catalogue in order to class and organise targets for your dynamic campaigns on the Search Network.

In Lengow, define labels according to your campaign needs (with Rules for example). Once the feed has been pushed to Google, campaign management has to be done in Google.
Read the different steps for more details in Google HelpCenter.
The page feed data template mentioned in the "Before you begin" section refers to the Google Dynamic Ads catalog that you have opened and set up in Lengow.
Manage your ROI
Use Lengow to improve your Dynamic Search Ads campaign and gain a better ROI.
Thanks to Lengow Rules or Exclusions, automatically suspend the sending of specific product pages (therefore your ads) according to your criteria.
View examples of products you may want to suspend or exclude from your campaigns:
Example: Stock is lower than 5 units
In this case, the product page will be used within your Dynamic Search Ads campaign as soon as stock will be greater or equal to 5 units.


Example: No stock
Example: Products without EAN code

Example: Exclude products from a specific brand

Automate your ads update