Contact the marketplace to know if you are eligible to sell your products on their website.   
To display your products on this marketplace, check that your products catalogue contains the data normally required.
Note: you don't have these values in your products catalogue? Contact the Lengow Support Team to find an alternative.
EAN Matching
home24 allows EAN matching to link your offers with existing products on the marketplace. 
To publish your offers through EAN matching, make sure to complete the following attributes:
"product-id" with the EAN code of your products
"product-id-type" with the value "EAN-13"
the fields indicated as mandatory or "Required at offer creation" (price, state, etc.), as well as the quantity.
Add a channel catalogue
Four countries are available for home24: Germany, France, Austria and Switzerland.
Add a channel catalogue in your Lengow account for each country in which you wish to publish your products.
Match Categories
Match your categories using "Categories Matching".
Complete Attributes Matching
Match your products catalogue fields with the fields requested by the channel, based on fields definitions. If necessary, enter hard values, use functions and/or adapt the values by creating rules. For fields with valid values, select the suggested value or match with your products catalogue values.
If a value is missing in the drop-down menu, please contact your channel account manager and ask for the creation of the concerned value.
Some fields are mandatory and must be completed for your products to be created or updated. Other fields are optional but the channel recommends you fill them in to improve your products visibility.
1. Set up your special offers/sales
To set up special offers/sales, fill in the following fields:
"price": strikethrough price of your product (original price). If your product is not discounted, this field must be filled in with your usual selling price.
"discount-price": discounted price of your product.
"discount-start-date" (optional): the date on which your promotion/sale begins. If you fill in this field and the "discount_price" field, the promotion will only begin on the date provided. Format: yyyy-mm-dd
"discount-end-date" (optional): the date on which your promotion/sale ends. If you fill in this field and the "discount_price" field, the promotion will stop on the date provided. Format: yyyy-mm-dd
Sales: To find out the deadline for sending your on sales data, please contact your channel account manager.
2. Delivery methods and costs
Shipping costs and delivery methods are defined by the channel. Contact it to obtain the table of costs.
2.1. Delivery methods
Select delivery methods in your channel back office.
2.2. Shipping costs
Please note that each product is linked to a logistics category. The shipping costs are calculated on the basis of:
the delivery method linked to the product
the logistics category linked to the product
For the logistics category, you may choose between several options:
Keep the logistics category assigned by default by the channel. In that case, no action needs to be taken by you in Lengow.
OR
Change the logistics category assigned by default by the channel. In that case, fill in the field "logistic_class" :
To use "Parcel standard", provide the code: PCL - M
To use "2MH standard", provide the code: 2MH - M
2.3. Leadtime-to-ship
It corresponds to the time (in days) necessary to prepare an order. 
Lead time to ship can be useful for built-on-demand products which need to be built, prepared, and packaged before they are sent. In this case you can specify a lead time to ship of five days for example, so that the customer knows that it will take five days before you ship the order.
The default maximum lead time to ship is set to 45 days.  
Go to your Mirakl back office if you want to set up free shipping costs for all your products.  
3. Variation values
home24 accepts product variations, which can be created based on the following criteria: "Main color", "Main material", and/or by dimensions ("width", "height" and/or "depth").
To group your product variations, fill in the "baseProduct" attribute with your product's "parent" identifier. The parent ID is the common ID that groups all the variants of a product. 
The attribute "variantNameMerchant" is a free text field which can be used to elaborate on variable parts of a product name (e.g. material, color, etc.).
This subheading specific to the child product is displayed in grey under the main title of the product. When "variantNameMerchant" is left blank, the color, size and dimensions (if filled in) are displayed in this grey subheading.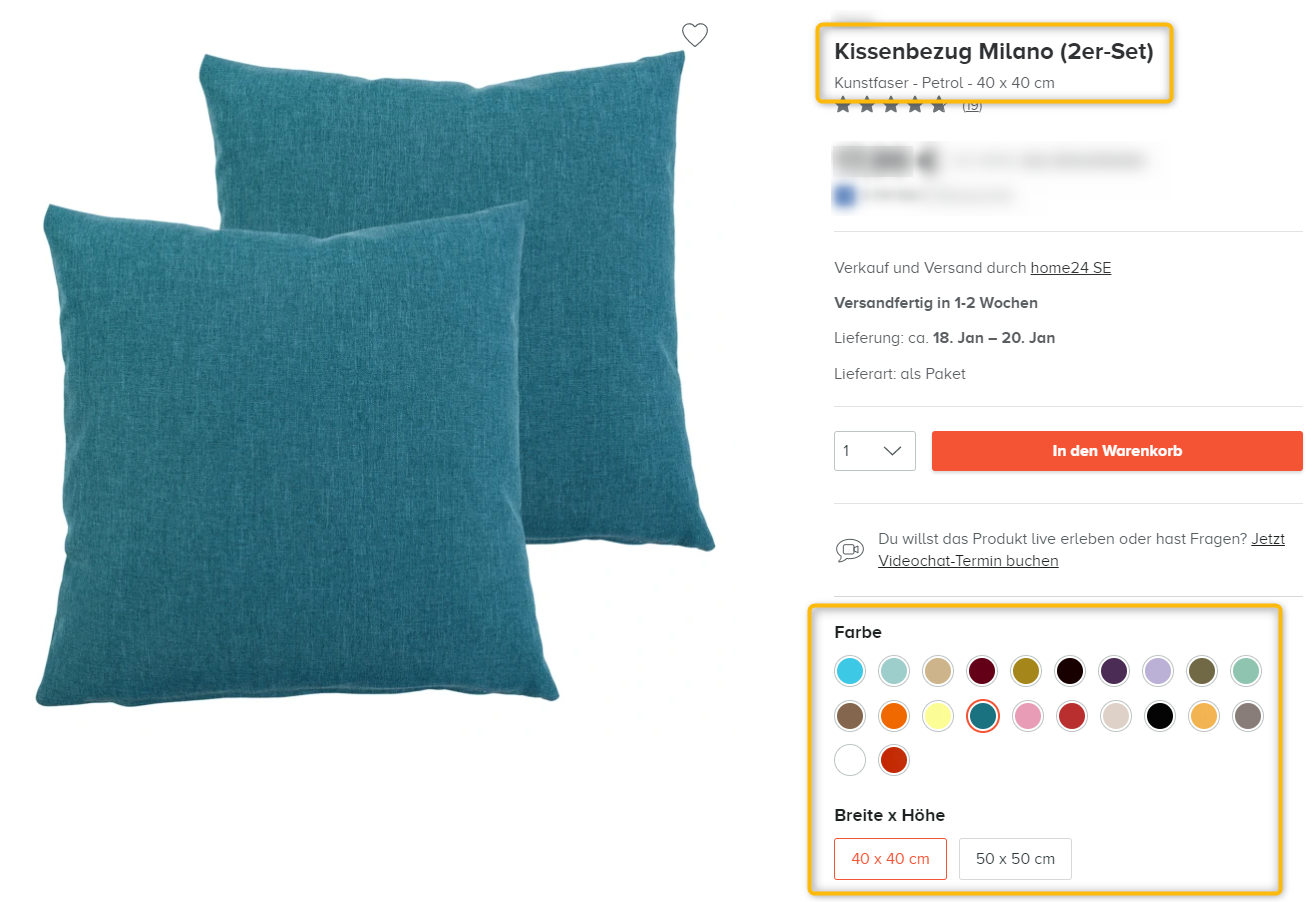 Parent products must be excluded from the feed sent to this channel, if your products catalogue contains any.  
4. Other specific settings
productNameMerchant :
The product title must contain between 5 and 40 characters. A TRUNC function may be used to limit the length of your titles.
quantity :
Although your product quantity is not mandatory for the initial product creation, make sure to fill in this attribute to publish your offers.
product-id :
home24 requires your product's EAN codes in this field (not your SKUs).
As a consequence, select the corresponding value "EAN-13" for the "product-id-type" field.
images :
home24 requires images on a white background, in .png or .jpg format. 
A minimum of 1 image is mandatory ("mediaMainImage" attribute), but home24 recommends to send at least 5 images per product ("mediaDetails" attributes).
The image guidelines are available in the Seller guide provided by home24.
deliveryScope :
Type and quantity of items to be delivered. If you are selling products in bundles, indicate the number for each item. Example: "6x dessert plates, 6x dinner plates"

description :


In the description fields, HTML code may be entered. However, do not use special HTML code containing semicolon characters (example: "&thinsp

;

"), as it could block the integration of your feed in home24 (error: "MISSING_DATA_TMP|Product data missing - invalid data").
eco-contributions :
Mandatory for France under AGEC law. Enter in this field the unique identifier number (IDU) followed by the corresponding amount of eco-tax. Example: FR016757_10W2N7|1.5
Several eco-contributions may be entered in a row, in this format: ProducerIdentifier1|Eco-contributionAmount1,ProducerIdentifier2|Eco-contributionAmount2
hasElectricItem :
This field is used to comply to take-back regulation of electrical appliances, and is required for certain categories: furniture, lamps, etc. Select YES for products which contain an electrical item, or NO otherwise.
Manage your Exclusions
Follow the usual instructions for exclusions for this channel:
Are there product variations in your catalogue? Check whether the parent products should be excluded or not in the step dedicated to variations.
Preview your data
Check the data you are about to send to the channel at the "Preview" step.
Configure your Options
Configure options before sending your products catalogue to the channel.
Mirakl_storeid : Enter here your Mirakl store identifier
More about Mirakl Authentification System
Launch the channel catalogue
Two distinct feeds are sent to the channel through API:
Product Feed: enables the integration and creation of products. 
It is sent to the channel once a day.
Offer Feed: enables the update of prices, stock, etc.
It is sent to the channel every hour.
New products sent to home24 are checked and their images reviewed by the channel. The validation process can take up to 6 weeks.
Read Integration Reports
Read product and offer Integration Reports to check that your products are properly configured, either at product creation level (product feed) or updates (offer feed). These reports list only items which were rejected by the channel. 
Product and offer integration reports are available and downloadable from:
Lengow: "Channel" tab > select "name of the channel" > click on "Activity"
Your Channel Mirakl back office
Edit a product file
Check our usual guidelines to edit your data.
Edit "product data" : Contact your channel account manager to edit this data.
Edit "offer data" : Data is automatically updated as soon as the offer feed is sent out (the frequency is indicated at the "Launch the channel catalogue" step).
Unpublish/Delete an offer
Manage your orders
You can manage your orders in the Lengow platform.
1. Order retrieval
Lengow retrieves orders placed on the channel website every 15 minutes over a day, and once a day over the last 5 days.
2. Order processing
Orders go through various statuses in Lengow while being processed.
3. Lengow/Mirakl orders Statuses
This marketplace uses the common statuses of Mirakl orders.
Contact
For business related questions, you may contact: