Google switched from the Inventory API to the Supplemental feed in February 2020.
This feed allows an hourly update of offers for the Google Shopping and Google Shopping Display Ads services. It has to be used along with the Google API - Services feed in Lengow.
How to do it?
1/3 Create the supplemental feed in your Google Merchant Center account
Click on "Products" > click on "Feed" > at the "Supplemental feed" level, click on "Add supplemental feed"
Name this new feed, then select "Content API"and click on "Continue"





If you have several main feeds, once you have selected "Content API", select the "country/language" combination that corresponds to the feed in your Lengow account (ex: "France, English" for your Shopping Actions FR feed in English in Lengow). You have to select only one combination. If you select more than one combination at a time, this will produce errors.





Then click on "Create feed"
Verify that this feed has been added to your Google Account, that its format is "Content API" and that the country/language combination is correct.


2/3 Fill in the supplemental feed ID in your Lengow account
In your Lengow account:
Go to "Channels" tab
Select your Google API feed (the one matching with the country/language feed you just created, e.g.: FR)
In the "Settings" tab, go to the "Settings" step
Fill in the identifier in the "Supplemental Feed ID" field



Make sure to leave the Merchant ID unchanged in the field above!
Your Lengow account contains multiple Google API feeds
Repeat steps above as many times as you have Google API feeds in Lengow.
Your GMC contains multiple Google API feeds
In your Google Merchant Center, you'll have as many supplemental feeds as there are lines associated with the "Content API" format at the top.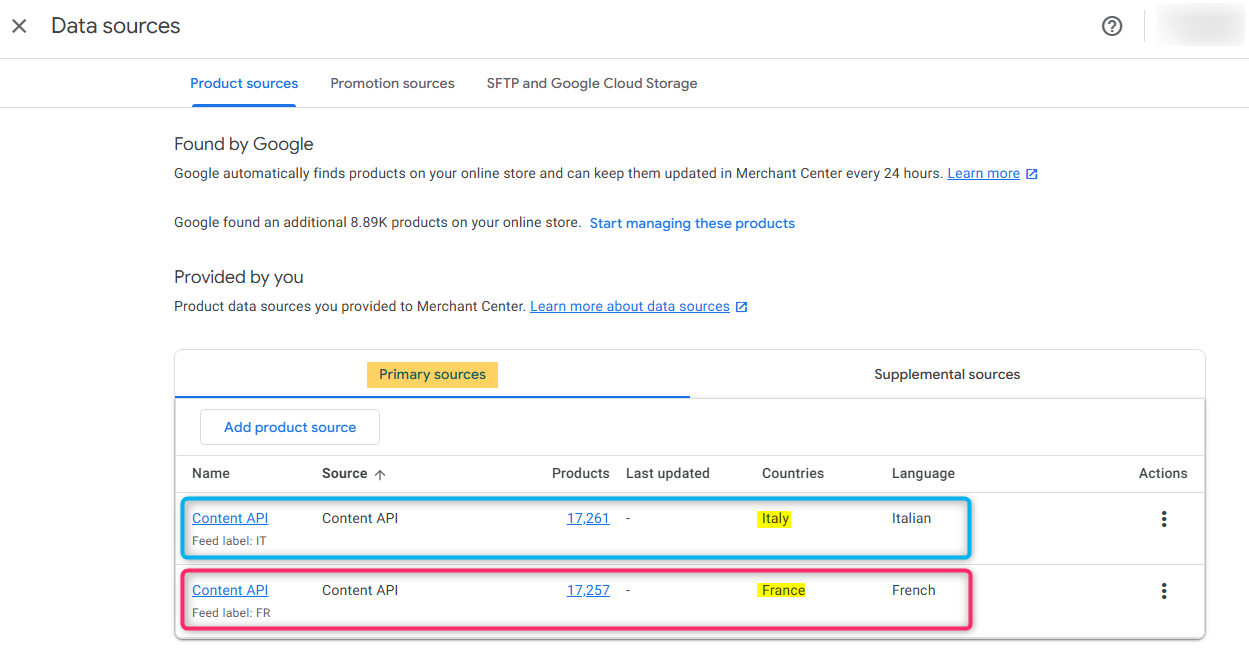 3/3 Complete a field from the Google API structure
New fields are available in your account now > Google API feed > "Attributes Matching" step.
Among these new fields and depending to your situation, one of them have to be filled in to keep your offers being displayed on Google.:
"productFee.amount"
(only if you have a French Google API feed and you've activated the Shopping Actions service)
You'll find this field in your Lengow account > "Channels" tab > select the Google API feed > "Settings" tab> "Match your products attributes" step > "productFee.amount" field.
Fill in this field with taxes amount applied to the product followed by the currency (19 EUR for example).