To display your products on this marketplace, check that your products catalogue contains the required datas.
Note: you don't have these values in your products catalogue? Contact Lengow's Support Team to find an alternative.
At the orders management stage, Zalando requires you to produce specific documents to be included in your deliveries. These documents can be retrieved from the Lengow Orders API.
The Zalando channel isn't available to be added directly from your Lengow account, so it's important you follow steps detailed below.
Specific case for multilingual country: For Belgium which is French and Dutch speaking, you need to have two masterdatas thus two feeds in Lengow. Zalando BE_FR and Zalando BE_NL .
A masterdata is unique and required per country. For the Lengow platform, one masterdata = one Lengow feed.
Make sure you indicate to our Support team with Zalando country you need when you send them your masterdata.
Steps in brief
Read the following steps prior to configuration:
Contact Zalando

to validate your partnership - Zalando may set restrictions (publishing countries, ZFS only, etc.). When joining, specify in the form you are coming from Lengow (as mentioned in the image below).
Your Zalando account manager will prepare your "MasterData". This is a mandatory file for your integration on Zalando. This file includes, among other things, the type of products that you are authorized to sell on Zalando. Send this to Lengow for your configuration.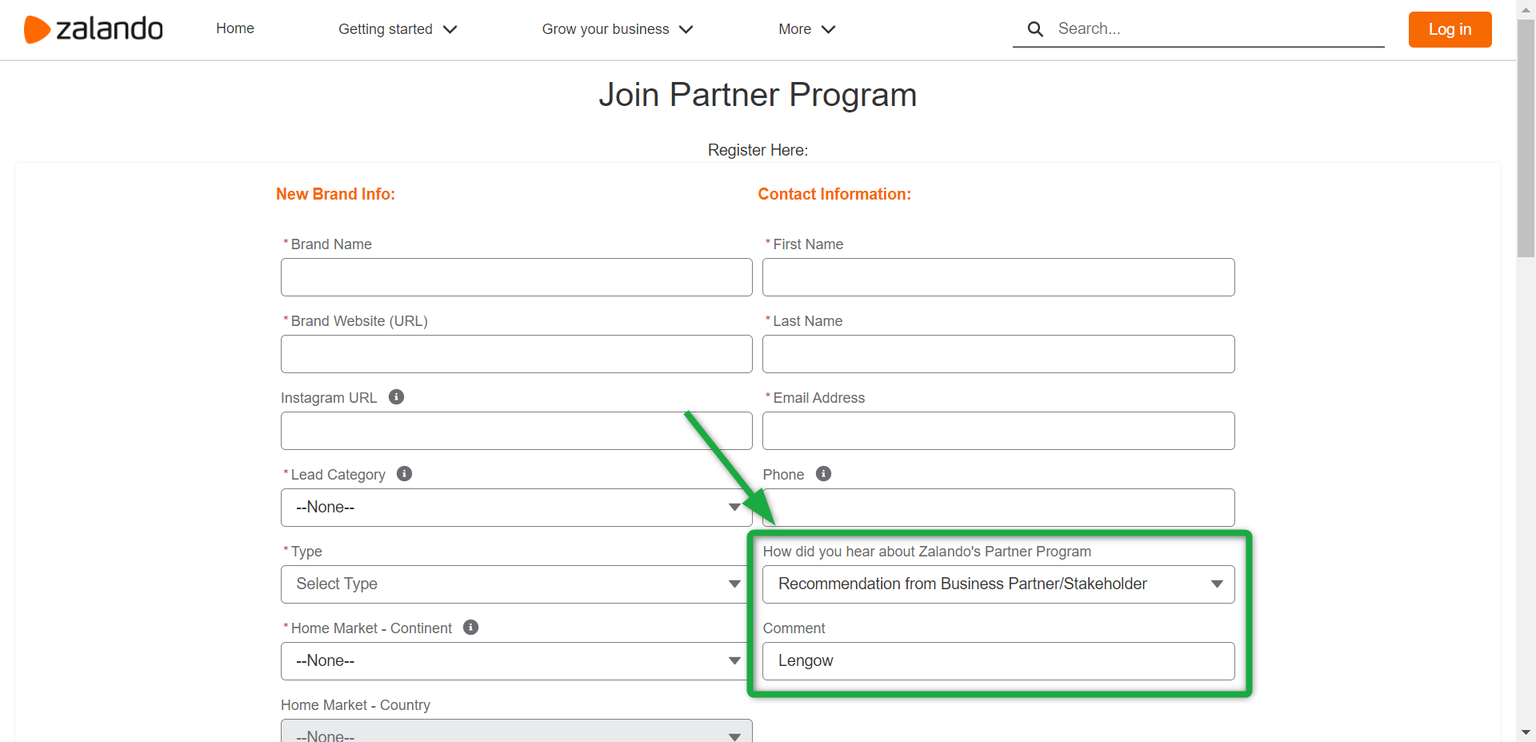 Submit a new request

and

specify for which country is your Zalando feed dedicated.
Copy in your Zalando contact and ask them to provide Lengow with your Masterdata file.
Your Lengow Support contact will let you know when you are able to start setting up your feed in Lengow.
Set up your feed in Lengow platform
Carry out "Categories Matching" to match your categories with those expected by Zalando's Master Data
Carry out the "Attributes Matching" to match the data from your product catalogue to the values expected by Zalando
Adapt values from your catalogue using Lengow features if necessary:
Carry out "Exclusions" to determine the products you don't want to display or which you aren't authorised to sell on Zalando
Check your settings with the "Preview"
Set up your Zalando back-office
Check with your Zalando account manager that your Zalando back-office is correctly set up (shipping delivery delay, shipping costs, ...)
Tell your Zalando account manager that you are ready to launch the integration of your products
Monitor the integration of your products
Manage your orders
All these actions are detailled in our dedicated guide.