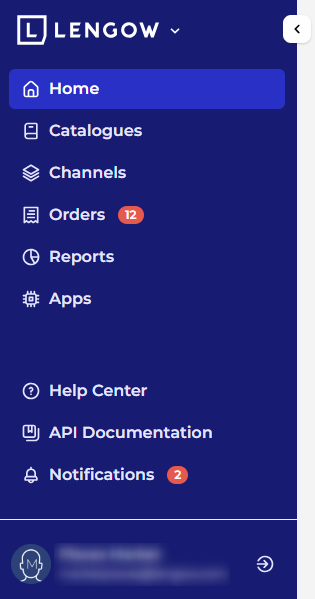 Find all the Lengow features explained below:
Lengow logo 
Back to homepage button 
Catalogues tab
Channels tab
Find all of your channels added in Lengow and the settings to

 

manage them.
Orders tab 
View and manage all the orders from your active marketplaces.
Reports tab 
All statistics related to your channels catalogues. 
Apps tab 
Apps store that will simplify your everyday work. 
Alerts / Notifications
Is your channel structure evolving (new attributes added)? A commercial operation approaching?
Watch your alerts / notifications regularly! They are located next to your avatar!
Help / Need help?
Access our Help Center or contact our Customer Support! 
Account and Profile (avatar) 
Amend information related to your Lengow profile and account or go to another account (only for multi-accounts).    

Automatical session deactivation
For security reasons, if you have been inactive on your Lengow account for a few minutes, your session will be automatically deactivated.
We will make sure to ask you if you are still there before doing so.
Once deactivated, you will be invited to log in again. We will make sure you get back to the last page you were viewing, so that you will be able to get back where you left your activity.