Lengow sends regularly your products and offers data to most marketplaces and to Google (other marketing channels are not connected via API). The frequency of these automatic data updates can be found in the corresponding channel guide.
Offers data mostly includes the stock and price information. It is sent more frequently than the products data, which refers to information such as the description, title, photos, etc. of your products.
If you need to push your offers or products to the channel outside of these automatic updates, a manual update can be done in Lengow.
Launching a manual push in Lengow
On the channel page, if the products or offers push is possible, push buttons are available.
Above these buttons, you will find more information about the most recent updates and the next scheduled pushes.

Click on the type of update you need (products or offers push) and you will be asked to confirm.
The last automatic update is indicated for your information: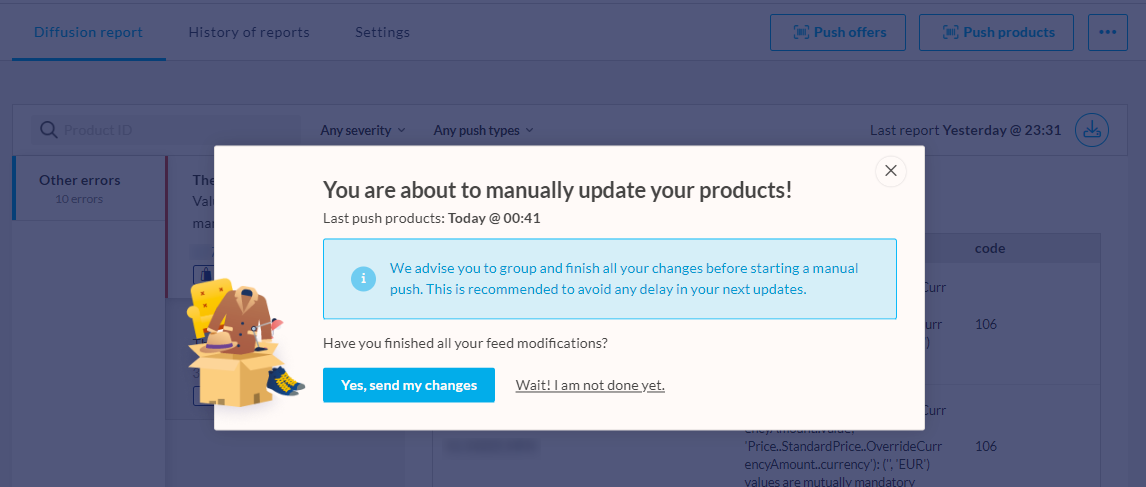 Click on "Yes, send my changes" to launch the push.
Is the push button unavailable?
If a push is already in progress or scheduled soon, the corresponding button is grayed out and unavailable:

In this case (see screenshot above):
The offers push is unavailable because another one is currently ongoing.
The products push is unavailable because one is scheduled soon. Please note that products pushes contain a lot of data and must be done further apart.


Other possible actions
A "More actions" button is located next to the push buttons.
It offers more options for this channel:
"Download last report": to retrieve the latest diffusion report.
"Copy this feed link": to get the URL of the optimized feed (also available at the bottom of the Settings section).
"Pause this channel": to deactivate the channel (updates and order retrieval will be stopped).
"Delete this channel": when the channel is already deactivated, you can delete it. Read more in our dedicated guide.