Contact Ricardo to know if you are eligible to sell your products on their website.

To distribute your products on Ricardo, check that your products catalogue contains the data normally required.

Note: you don't have these values in your products catalogue? Contact the Lengow Support Team to find an alternative.
Add a channel catalogue
Add a Ricardo channel catalogue in your Lengow account.
Match Categories
Match your categories with Ricardo's through "Categories Matching".
Complete Attributes Matching
Match your products catalogue fields with the fields requested by the channel, based on field definition. If necessary, enter hard values, use functions and/or adapt the values by creating rules. For fields with valid values, select the suggested value or match with your products catalogue values.
If a value is missing in the drop-down menu, please contact your Ricardo account manager and ask for the creation of the concerned value.
Some fields are mandatory and must be completed for your products to be created or updated. Other fields are optional but Ricardo recommends you fill them in to improve your products visibility.
Some special features for Ricardo:
1. Set up your special offers
It is currently impossible to manage special prices on Ricardo with Lengow.
Note: Ricardo does not provide the ability to do auction through Lengow.
During the lifetime of an ad, Ricardo blocks any increase in price and inventory.
Thus, if you increase your prices during the life of an ad, Ricardo will block this increase. Therefore, it might be possible that prices sent to Ricardo and those displayed on Ricardo are different.
2.Delivery methods and costs
To set up your delivery methods and costs, fill in the following attributes:
AvailabilityId: delivery time.
DeliveryCost: delivery costs (in Swiss francs).
DeliveryId: delivery method.
IsCumulativeShipping: two possible values for this attribute:

select "TRUE" to enable the adding of delivery charges when an order contains several products.
select "FALSE" if you don't want to activte this option. In that case, the highest delivery costs will then be taken into account.

IsDeliveryFree: two possible values for this attribute:

select "TRUE" if you enter the value "0" in "DeliveryCost" attribute.
select "FALSE" if the "DeliveryCost" attribute contains a value greater than "0".
Convert your prices and delivery costs
Please note that prices and delivery costs must be sent to Ricardo in Swiss francs.
If prices and delivery costs are in another currency in your product catalogue, you must convert them in Swiss francs by using functions and/or creating rules.
Note: The automatic rules on conversion are based on the price of the European Central Bank (ECB) and are updated in Lengow every 24 hours. As a result, it is possible that your prices will fluctuate throughout the lifespan of your ad. ricardo.ch will block this fluctuation, and it is, therefore, possible that the prices shown in your optimised feed and in your ads will be slightly different.
3. Variation values
Ricardo doesn't manage products variations and will create a separate product page for each product variation from your product catalogue.
For instance, there will be different product pages for a product available in different colours on Ricardo:
One product page for product X in black
One product page for product X in blue
One product page for product X in green
One product page for product X in grey
Parent products must be excluded from the feed sent to Ricardo, if your products catalogue contains any.
Manage your Exclusions
In addition to the usual instructions for exclusions, you must exclude for Ricardo:
Ricardo limits the integration of new products. You must make sure to send less than 10,000 products at a time.
Are there product variations in your catalogue? Check whether the parent products should be excluded or not in the step dedicated to variations.
Contact the Lengow Support Team if you need further information and/or help about this.
Preview your data
Check the data you are about to send to the channel at the "Preview" step.
Configure your Options
Configure options before sending your products catalogue to Ricardo.
To connect your Lengow account to your Ricardo seller store click on the "Parameters" button of the channel.
Enter your

Ricardo login and password

and

click on "Authorize"

to connect Lengow to Ricardo.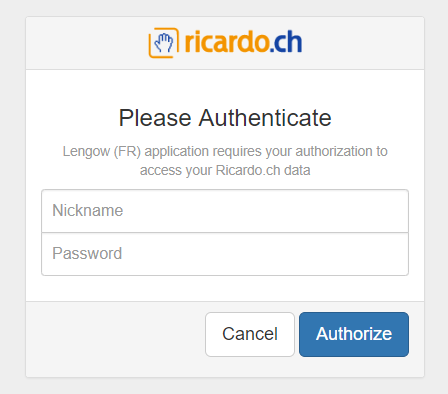 Launch the channel catalogue
Before sending your optimised catalogue to Ricardo:

Check that your Ricardo online store has been created and opened.
Check that your product catalogue contains less than 10,000 products so that it can be integrated on Ricardo.
To launch the first feed to Ricardo, click on "Launch"
Then your optimized catalog will be automatically sent twice a day.
Read Integration Reports
Read product and offer Integration Reports to check that your products are properly configured, either at product creation level (product feed) or updates (offer feed).
These reports list only items rejected by Ricardo. For each product in error, Ricardo specifies the reason for the rejection.
Product and offer integration reports are available and downloadable from Lengow: "Channel" tab > select "Ricardo" > "Activity".
Main types of error and how to correct them
Explanation of Ricardo errors is available from this link to their site.
Edit a product file
Contact your Ricardo account manager to edit this data.
Data is automatically updated as soon as the offer feed is sent out.
Unpublish/Delete an offer
Manage your Ricardo orders
You can manage your orders in the Lengow platform.
1. Order retrieval
Lengow retrieves orders placed on Ricardo website every hour.
2. Order processing
Orders go through various statuses in Lengow while being processed:
Waiting acceptance. Here is what you can do at this stage:
Note: If the order has been paid via "Ricardo Pay" and if the payment is confirmed, you won't have to accept the order. It will be retrieved in the "Waiting shipment" status directly.
Waiting shipment. Here is what you can do at this stage:
Shipped.

The order has been sent and the shipment is in progress.
Cancelled. The order has been cancelled. At this stage, you cannot carry out any action.
It is not possible to cancel a Ricardo order through Lengow.
Go to your Ricardo backoffice to do so.
Normally you cannot cancel an order because each sale is governed by a contract of sale with the buyer. But if a buyer does not pay or exercises his/her right of withdrawal, you can, as a seller, submit a claim for closing fees refund within 7 to 60 days.
If you cannot satisfactorily deal with the sale, only closing fees can be claimed back. Publication costs and publication options you chose are still owed (this is subject to exceptions).