My Custom Channel
My Custom Channel allows you to create your own Channel structure, fully customized according to your needs.
This new structure does not require the intervention of our technical team, you are free to customize it and use it as you wish.
This application can be useful to access a specific channel currently unavailable on our platform and will open up new possibilities for your activity.
How to access it?
From the tab "App" > "My Custom Channel" in your Lengow account
How does it work?
In your "My Custom Channel" App, click on the "Add a new channel" button to create a new channel structure. Follow each step to customize your new structure:
1. Presentation
You first have to give a name to your new channel structure and to specify its country.
You also have the option to upload an image to use as this custom channel's logo.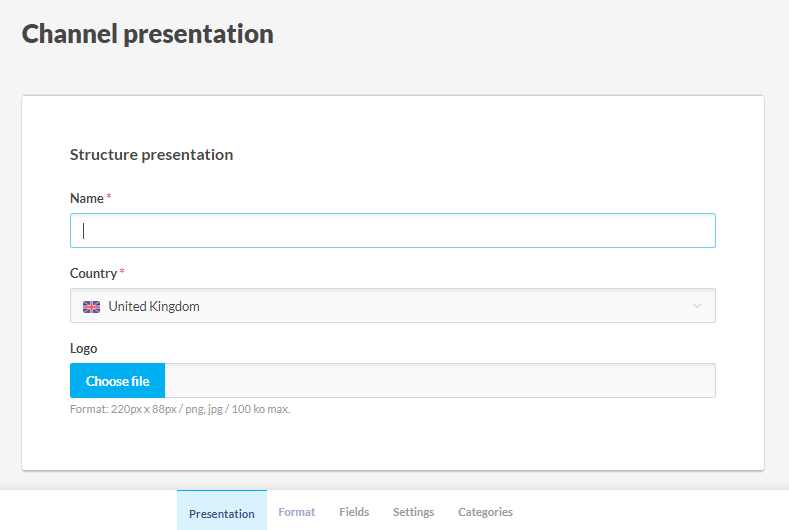 2. Format
In this tab, personalize the output format of your custom channel by adjusting the following settings:
file format (CSV, XML, etc.)
delimiter (comma, tab, etc.)
option to encapsulate the text with quotes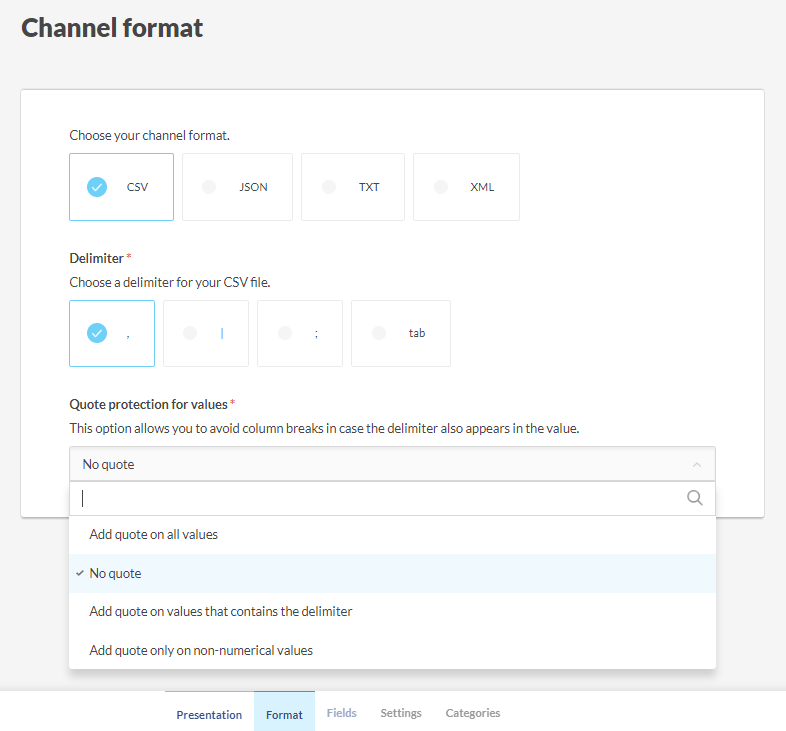 3. Fields
There are two options to create the list of fields of your new custom channel:
Manually enter the name of each field.
For each field, you can add a field description and specify if the field is required or optional.



or


Upload your list of fields by clicking on "import them".
The file containing the field names must be in CSV format. An example of the expected file format can be downloaded.



Please note that a new import of fields on an existing structure will overwrite all your data.
4. Settings
In the Settings tab, you can add a tracking code to follow-up your clicks and sales. Select the field containing the product URLs you wish to track.
In the Sending options, you can choose whether your output feed should be available:
as a URL link;
or as a file deposited on an FTP server (the deposit is done once a day, during the night).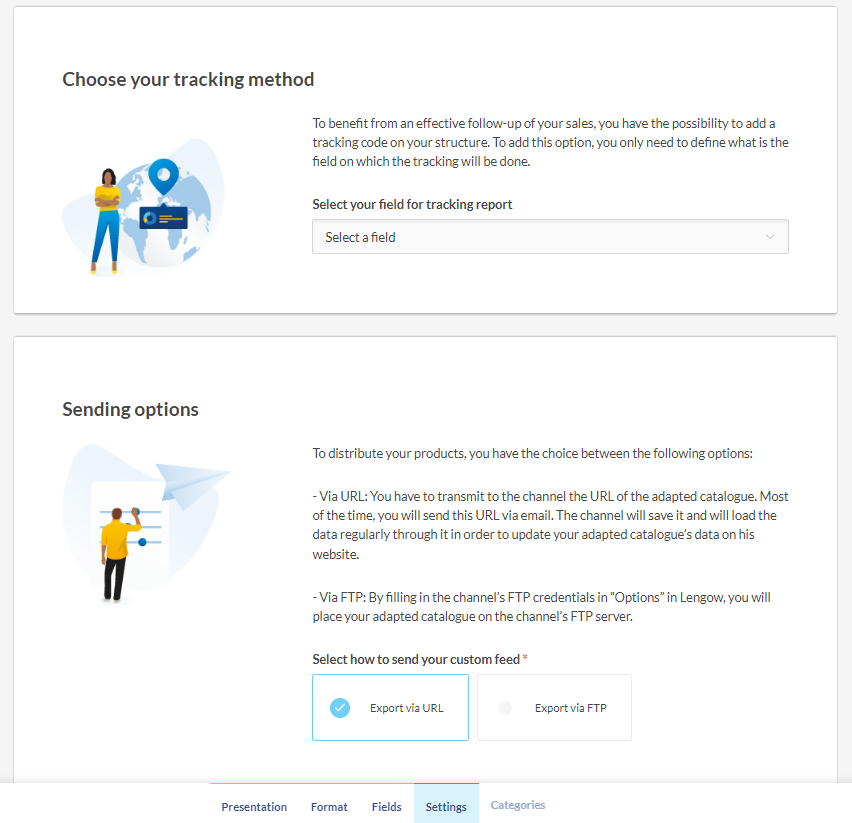 5. Categories
Here you have the option to add categories to your channel structure, i.e. your own thesaurus.
An example of the expected import file containing your categories can be downloaded once you've clicked on "Add categories".
This file should contain the values expected by the channel (category codes, for example) in the first column, and the category names as a breadcrumb (example: "Men> Pants> Jeans") in the second column. The breadcrumb categories will be the ones appearing in Lengow when matching the categories of your feed.
Note: In your breadcrumb category, make sure to leave a space after each arrowhead. This format will allow you to select the finest level of category when doing the category matching of a feed.
Example: "Women> Accessories> Scarves" (instead of "Women>Accessories>Scarves")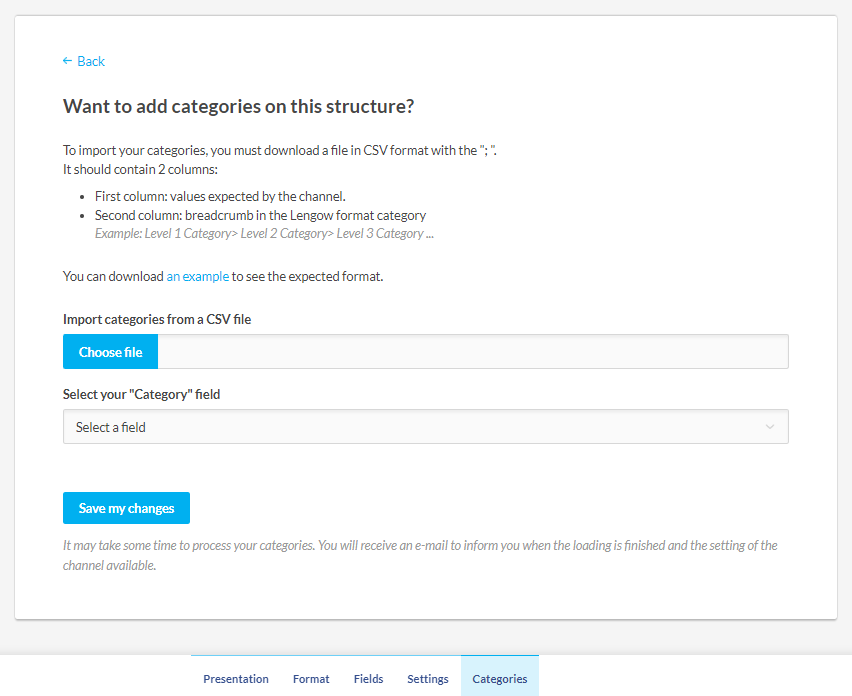 6. Launch
Click on the "Launch" button in the Categories tab once the settings of your channel structure are completed.
The custom channel will remain in draft mode until it has been launched.
Creating a feed based on a Custom Channel
When your custom channel structure is ready, click on "Use your new channel".
This will allow you to add a new feed based on the structure you created using My Custom Channel.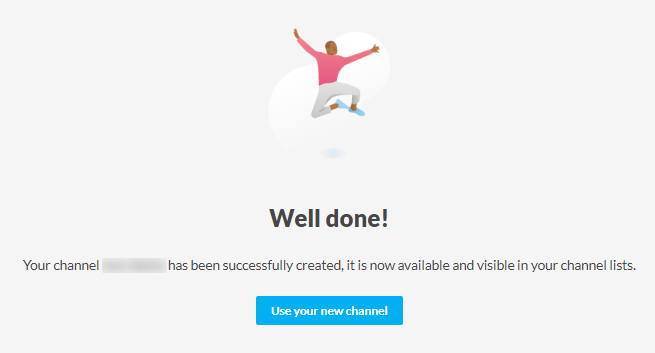 You will be asked to select a catalogue on which to base this new feed. You can then follow the usual steps to configure the settings of this feed.
Several feeds can be based on the same custom channel structure.
Dashboard
You will find all the custom channels you have created in the "Dashboard" section of the "My custom Channel" App.
Select one custom channel structure to modify it or to add a new feed based on it.
Any custom channel can be duplicated or deleted.