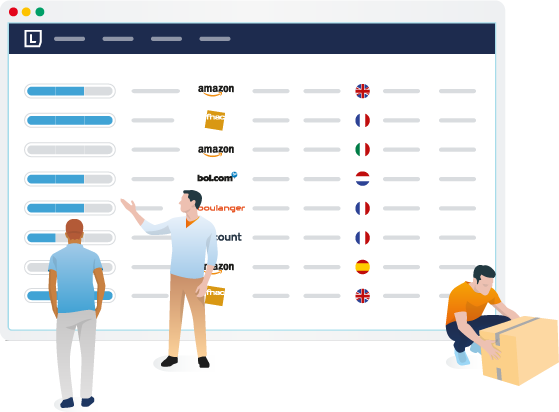 What is it ?
Fulfillment is a term that you can find on some marketplaces.
This term refers to the process whereby a marketplace takes an order and executes it directly, making it ready to be delivered to the target customer. This may involve pickup in the warehouse, packaging, labeling, etc.
In other words, it is the marketplace that deals with shipping orders that pass on its site instead of the seller.
This option "fulfillment" is available in marketplaces such as Amazon, Cdiscount, Zalando, ManoMano, etc. (see details below)
How does it work ?
For marketplaces that offer the fulfillment option, indicate them your willingness to participate in their program "sent by the marketplace" from your seller shop on their platform.
Once this option is activated, some settings are expected on the channels structures in Lengow.
Indeed, the specific settings required by the marketplaces will indicate them which products are affected by this option.
Within the Matching Attributes, each marketplace offers either an attribute to be completed or several attributes.
Here are the details for:
Amazon
Refer to the guide dedicated to Amazon FBA.
CDiscount
No specific settings are required for this marketplace in Lengow. Everything has to be set in your Cdiscount back office when you take the Fulfillment option.
ManoMano
Two feeds are necessary because ManoMano requests different API identifiers. So one feed for fulfillment and one for products that are not part of this program.
Lengow Tip:
The structures are identical, when you add the two feeds, remember to

rename

your "Fulfillment" feed to identify it in the platform.
Be careful also to exclude products that do not match in each stream to avoid sending duplicate products to ManoMano!
In Attributes Matching of your fulfillment feed, here is the list of required attributes to complete:
"is_mmf" : value "1"

to be completed to indicate "sent by ManoMano"
"weight_net"
"Icpe"
"Onu"
"security_file_number"
"has_batch_number"
"has_serial_number"
"has_dluo"
"is_fragile"
"is_overpackaged"
All definitions are available for each attribute.
LeroyMerlin
Refer to the LeroyMerlin's guide.
Zalando
Refer to the guide dedicated to Zalando ZFS.
Orders import
For each of these marketplaces, the process is the same in Lengow.
Each order whose product (s) are identified as being part of a "Fulfillment" program is retrieved in Lengow in the "SHIPPED" status.
There is therefore no action to be taken on the part of the merchant. To send orders back to your e-commerce back office
Via one of the Lengow plugin
Prestashop, Magento 1 & 2, Shopware: activate the option to import orders shipped by marketplaces
Shopify: Orders dispatched through the marketpalce are automatically retrieve to

"SHIPPED"

status. The stock is not decremented.
Via the Lengow API
The information can be retrieved via the "is_delivered_by_marketplace" node